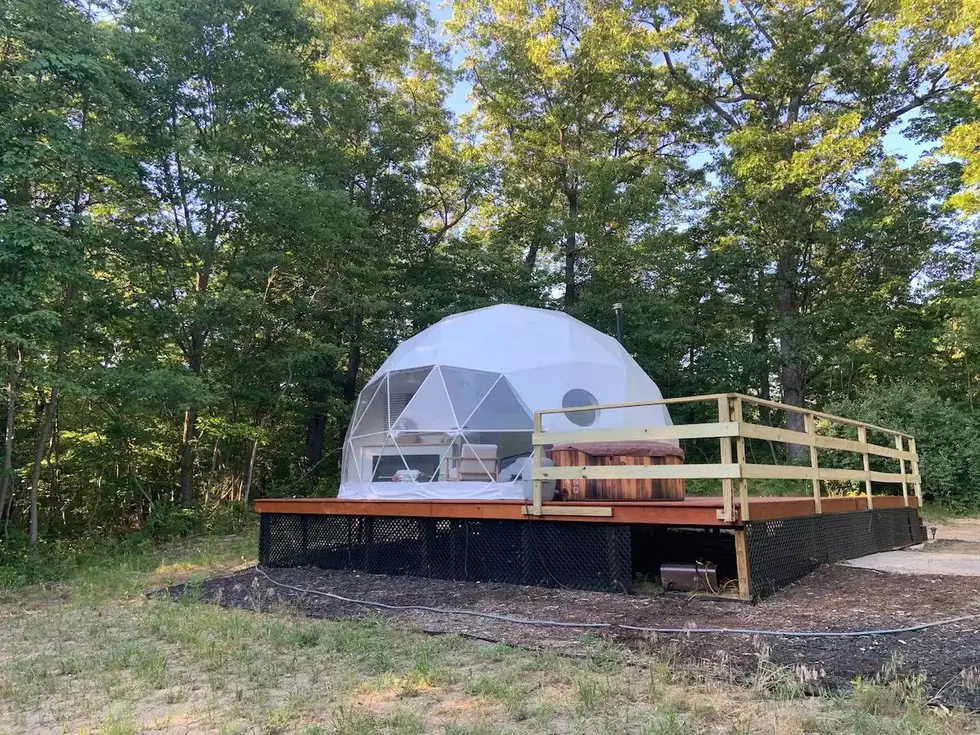 This Adorable Dome Home in Pullman, Michigan is a Step Above Glamping
Airbnb, Britteny
If glamping is a step above camping, then this Airbnb is a step above glamping. This 'dome home' is about 25 minutes from Lake Michigan and it's simply adorable.
SEE ALSO:  Michigan Teen Wins $613,000 on a Lottery Ticket She Got as an Early Christmas Gift
A Little About the Dome Home
Britteny is the highly-rated Airbnb host of this cute little dome home in Pullman, Michigan. Pullman is about 20 miles south of Holland on Michigan's west side.
Let's just say you won't be roughing it. The dome house sleeps two people and comes with most of the comforts of home. There's a queen-size bed, a full bathroom, a space heater and wood-burning stove for the winter months, and an air conditioner for the summer. There is even an outdoor hot tub that can be used all year long and the host provides plenty of towels.
SEE ALSO:  Dearborn Woman Taken Down in $65 Million Coupon Scheme
The host notes that the space heater and a heated mattress pad help guests stay warm in the winter, even if the outside temperature falls below freezing.
Unplug and Enjoy
If your definition of glamping means unplugging from the internet, then you're in luck. There's no wi-fi, but plenty of room to roam on the 1,200-acre lot. When the weather is nice, you can hang out on the private patio and even enjoy free blueberry picking on the premises.
Relax and enjoy scrolling through the pictures below.
Check Out This Dope Dome Home in Pullman, Michigan
This cute little dome home is located in Pullman, Michigan, about 25 minutes from Lake Michigan.
$3.7M Linden Home with Indoor Pool & Basketball Court is Lakeside Dream
Currently, the most expensive home
on the market
in Genesee County, at $3.7M, is a 10,000-square-foot lakeside dream home that boasts just about every extra you could imagine. Making it truly unique it even has a private beach with sand right from Lake Michigan. From the custom indoor basketball court, indoor pool, outdoor pool, and incredible outdoor entertaining area, this home is truly something special.
This Cute Little Ice Cream Shop Could be All Yours