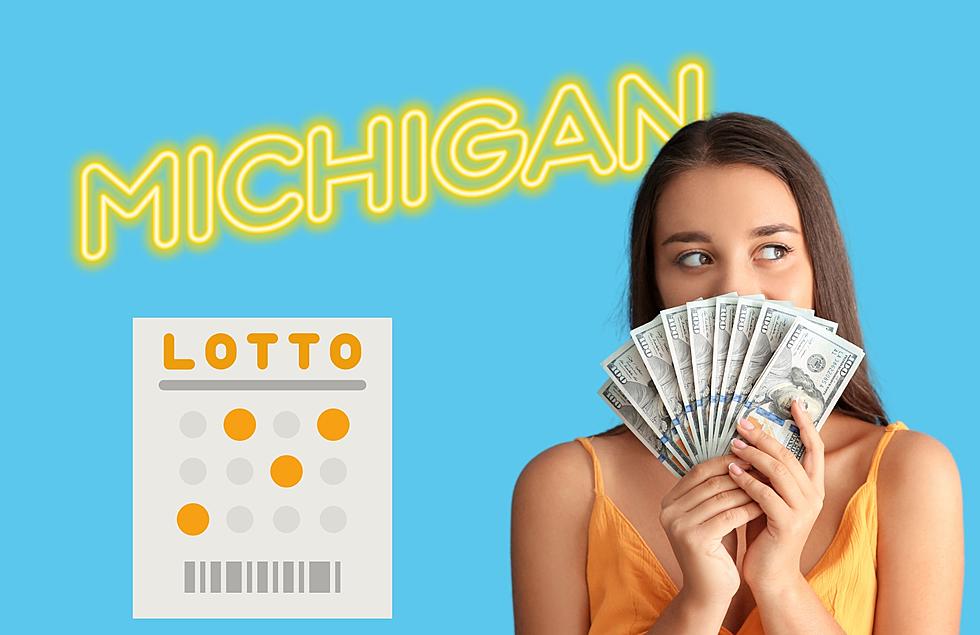 Show Me The Money: These Are The 3 Biggest Lotto Winners In Michigan History
Canva
I don't usually play the Mega Millions or Powerball until it reaches a billion dollars.
There are several Michiganders who played the lotto and won big.
These Are The 3 Biggest Lotto Winners In Michigan History
There have been several lottery winners in Michigan who have won large sums of money.
Here are some of the biggest lottery winners in Michigan history:
Donald Lawson: In 2012, Donald Lawson of Lapeer won $337 million in the Powerball lottery, which was the largest prize in Michigan history at the time.
Mary and Ralph Stebbins: In 2005, Mary and Ralph Stebbins won $208 million in the Mega Millions lottery.
$1.05 billion winner: According to Jackpocket, the largest lottery win ever recorded in Michigan history was for $1.05 billion dollars.
The ticket was purchased at a Kroger off of Grand River Avenue in Novi.
Michigan's millionaire winners: In 2022, there were 48 lottery tickets sold in Michigan that won $1 million or more.
The biggest prize was $5.4 million on a Lotto 47 drawing via a ticket bought online in Redford.
If you wanna try your luck at the lottery in Michigan you have several options.
Mega Millions
Mega Millions tickets cost $2.00 per play.
Players may pick six numbers from two separate pools of numbers - five different numbers from 1 to 70 (the white balls) and one number from 1 to 25 (the gold Mega Ball) - or select Easy Pick/Quick Pick.
You win the jackpot by matching all six winning numbers in a drawing.
There are a total of nine ways to win a prize in Mega Millions, ranging from the jackpot down to $2:
Powerball
Powerball tickets cost $2 per play.
Select five numbers between 1 and 69 for the white balls, then select one number between 1 and 26 for the red Powerball.
Choose your numbers on a play slip or let the lottery terminal randomly pick your numbers.
Drawings are held every Monday, Wednesday, and Saturday at 10:59 pm ET at the Florida Lottery draw studio in Tallahassee.
The Powerball jackpot grows until it is won.
Players win a prize by matching one of the 9 ways to win.
The jackpot is won by matching all five white balls in any order and the red Powerball.
25 Things Michigan Is Known And Famous For
Michigan is known as the Motor City and is home to Motown. But that just scratches the surface of what the Mitten state is known and famous for.
LOOK: Do you know these 50 famous acronyms?
This list from
Stacker
features a collection of the most common acronyms and their meanings. Popular abbreviations include establishments like ACLU, YMCA, ad the AARP.
Bring Your Pet And Enjoy These 20 Pet Friendly Michigan Beaches
There is no need to leave your pet behind. Check out these 20 pet-friendly beaches in Michigan all summer long.