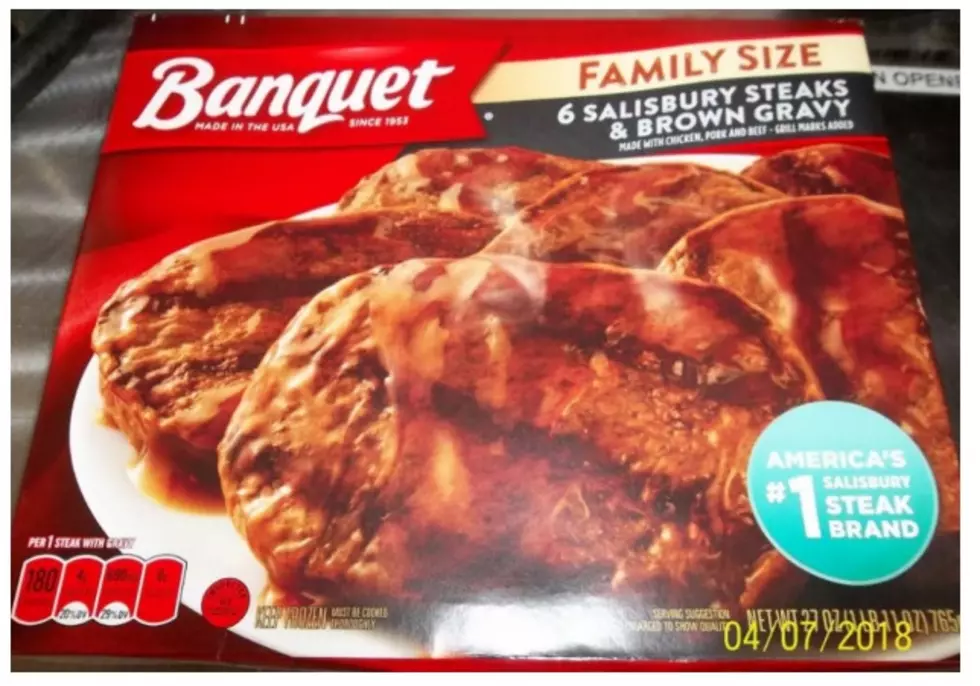 Bones In Banquet Salisbury Steak Meals Lead To Nationwide Recall
courtesy of the USDA
The Brand in question is Banquet's Salisbury Steak and Brown Gravy family sized frozen meals.  And Conagra is recalling 135,159 pounds of the Salisbury Steak product which includes poulty, pork and beef, because a number of customers who bought the meals complained that they found pieces of bones in their meals.  Three people have also reported minor injuries because of the bones.
27-oz. carton containing plastic shrink-wrapped packages containing 6 pieces of "Banquet FAMILY SIZE 6 SALISBURY STEAKS & BROWN GRAVY MADE WITH CHICKEN, PORK AND BEEF – GRILL MARKS ADDED" with lot code 5006 8069 10 05and a 'BEST BY' date of SEP 01 2019 printed on the package.

 

The products subject to recall bear the USDA mark of inspection with establishment number "P-115" located on the side panel of the consumer package. These items were shipped to retail locations nationwide.
The USDA highly recommends that if you bought any of these meals, you don't eat them, but rather take them back to the store you bought them, or just throw them away.
If you're worried you and have more questions, you can reach out to Conagra Brands Consumer Affairs at (800) 289-6014.