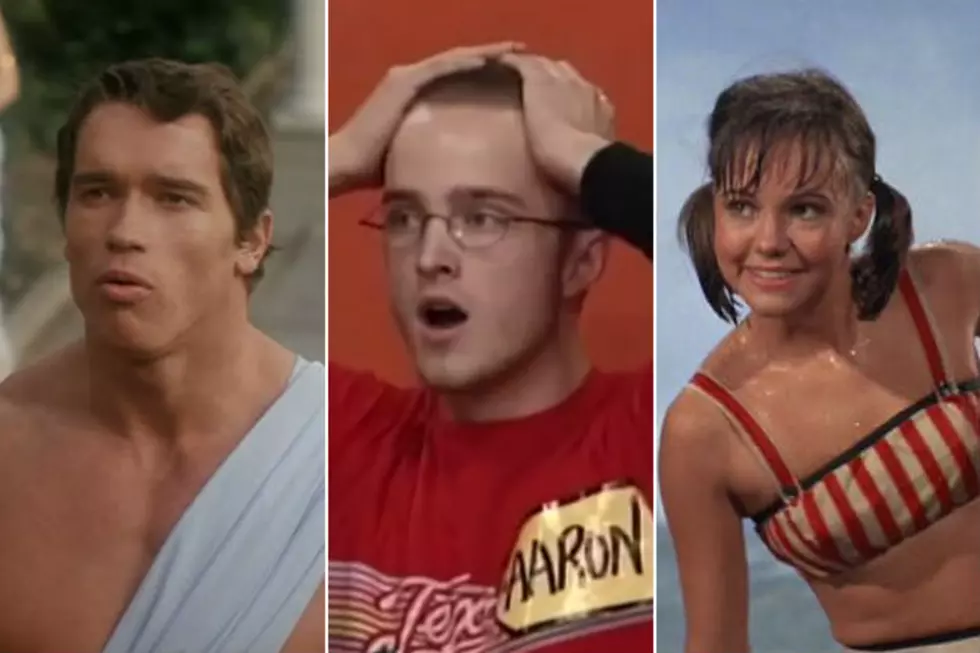 Watch: Celebrities Who Were Contestants on Game Shows Before They Were Famous
Trimark Pictures/NBC/Sony
Sometimes it can be hard to crack Hollywood when you're an up and coming actor. You've got to play the game -- or in this case, the game show. Many of your favorite actors and actresses were guests on classic game shows before they hit the big time and became household names. From Arnold Schwarzenegger to Pee-wee Herman, these stars knew that it was all about leaving a lasting impression ... and it worked! Read on to watch your favorite celebrities on game shows before they became famous.
Arnold Schwarzenegger on 'The Dating Game'

In 1973, Arnold Schwarzenegger appeared on 'The Dating Game.' Back then, the championship bodybuilder only had one film on his resume: he had appeared in 'Hercules in New York' as the titular hero, under the stage name "Arnold Strong 'Mr. Universe'." It would still be nine years before he landed the star-making role of Conan in 'Conan the Barbarian.'

Vanna White on 'The Price is Right'

Just two years before she became the iconic letter-turner on 'Wheel of Fortune,' Vanna White was a fresh-faced and adorable contestant on another game show -- 'The Price is Right.' She made an impression with her custom t-shirt, which host Bob Barker makes a point of noticing.

Farrah Fawcett on 'The Dating Game'

A few years before she landed a starring role on 'Charlie's Angels,' Farrah Fawcett appeared on 'The Dating Game' as a guest, choosing from three eligible bachelors whom she might date. Fawcett would go on to become an icon, both for her acting and that glorious hair.

Steve Martin on 'The Gong Show'

Comedian and actor Steve Martin appeared on Chuck Barris' 'The Gong Show,' where he played the banjo. At the time, Martin was a writer for comedy legends The Smothers Brothers. For those of you familiar with Martin, you know that in addition to making America laugh, he's also quite the talented musician, as evidenced a few years after 'The Gong Show,' when he played banjo and sang with Kermit the Frog on 'The Muppet Show.'

Aaron Paul on 'The Price is Right'

Back in 2000, Aaron Paul didn't have many acting credits to his name -- mostly guest appearances as nameless characters on shows like 'Beverly Hills, 90210' and '3rd Rock from the Sun.' Paul got to "come on down" on 'The Price is Right,' and his excitement to be on the show is downright charming. We wonder if he had the same reaction when he won the part of Jesse Pinkman on 'Breaking Bad.'

Andy Kaufman on 'The Dating Game'

In the 70s, legendary comedian Andy Kaufman appeared as a contestant on 'The Dating Game,' introducing the world to one of his signature voices. When the future 'SNL' and 'Taxi' star is asked to pretend that his potential date is Santa Claus, the results are hilarious.

Kirstie Alley on 'Match Game'

In 1979, Kirstie Alley was just an interior designer from Wichita, Kansas, trying to make a name for herself in the acting business. She appeared on the new syndicated version of 'Match Game,' and totally wowed audiences by being pretty amazing at the game. Alley appeared on the show several times, but it would still be a few years before she hit it big as Rebecca on 'Cheers.'

Paul Reubens on 'The Gong Show'

In 1977, a few years before the world would be introduced to the wonderful Pee-wee Herman persona, Paul Reubens appeared on 'The Gong Show' as one half of sound-effects duo Betty and Eddie. Chuck Barris gives them his usual funny intro, and Reubens gives us a little taste of his wackiness.

Sally Field on 'The Dating Game'

'The Dating Game' is a veritable goldmine of pre-fame celebrities, including Sally Field, whose acting career had just begun to take off. The actress appeared on the first episode of the new nighttime version of the game show, just as cute as ever. The 'Gidget' star would take another year before she became 'The Flying Nun.'

John Ritter on 'The Dating Game'

When he was just 19 years old, John Ritter won a spot as a contestant on 'The Dating Game' by sending a letter to the show, in which he described himself as a Drama major and baseball fan whose dreams included wanting to be a millionaire. He later went on to star in 'Three's Company,' and yes, he eventually became a millionaire thanks to his acting talents -- some of which are on display in this video.