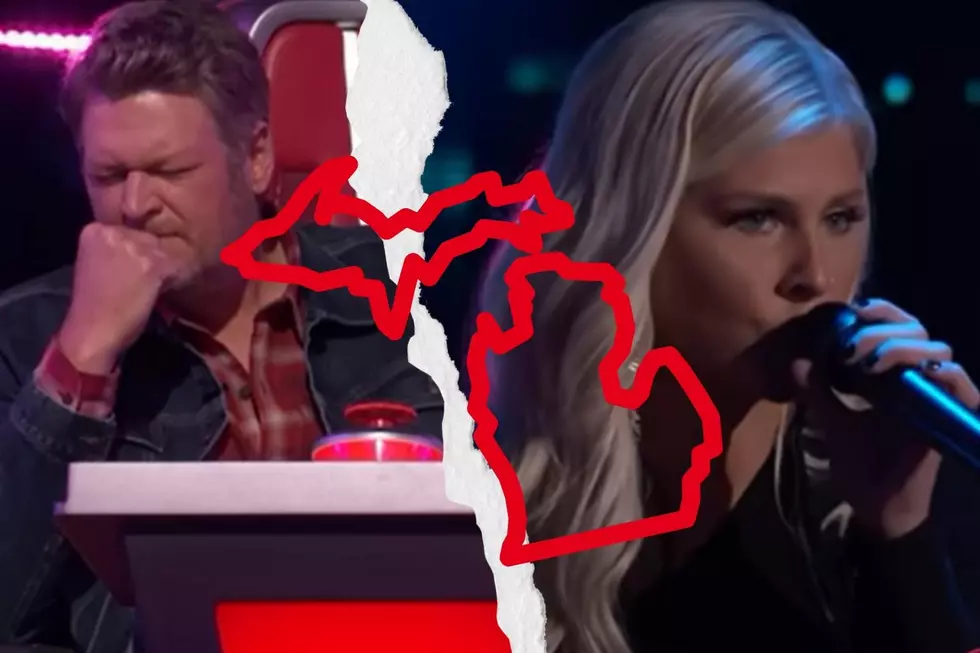 Did Blake Shelton Just Diss Michigan on "The Voice"?
Photos via Canva and YouTube (The Voice)
Michigan native Sadie Bass has sailed through the Blind Auditions on the latest season of NBC's "The Voice", but not without a little drama surrounding something one of the coaches said about her home state.
Sadie Bass' performance
Sadie performed her version of Keith Urban's 2006 hit "Stupid Boy" during Tuesday night's televised Blind Auditions on "The Voice", impressing both coaches Blake Shelton and Gwen Stefani enough to the point they turned their chairs around to fight to have her on their respective teams.
The Post-Performance Chit-Chat
As is typical, when Sadie finished singing, Blake and Gwen's fellow coaches this season (show veteran John Legend and newbie Camila Cabello) turned around too, and began getting to know her a little better.
Sadie introduced herself, and mentioned that she's 25 and from Bath, Michigan, but currently living in Nashville, Tennessee.
It appeared that Blake wasn't quite paying attention to what she said, because after a little tit-for-tat chit-chat among the coaches themselves, he asked Sadie if she was originally from Nashville.
Sadie reiterated that Michigan's her home state, but that she moved to Nashville to pursue her dream of songwriting. She then talks about how the blind audition helped her get over her lifelong stage fright.
Gwen began her pitch for Sadie by interjecting her own Michigan connection: her dad is from the Detroit area.
Blake then congratulated Sadie on overcoming her stage fright on stage of "The Voice" (of all places). Camila took a moment to bond with Sadie over the stage fright aspect too, recalling her own struggle with it early on in her career. Gwen promised that if Sadie selected her as her coach, she would focus on building Sadie up and mentoring as a fellow songwriter.
Here's Where Things Went South
Upon being asked he she would choose to be her coach, Sadie pointed at Blake and said, "I prayed for you, Blake, to turn around for me; but then I thought, Gwen, you know what? You're a little against the grain, and (addressing Blake again) I think the second you heard I was from Michigan I don't know if you believed in what was in here (pointing to herself), so, Gwen, I'm gonna have to go with you."
For her part, Gwen was clearly stunned to have had a country-leaning contestant choose her as a coach over Blake. Blake was stunned too, exclaiming to the other coaches, "What do I have against Michigan?"
What We Don't Know
Below, you can view a video clip of Sadie's performance on "The Voice" and what transpired after it. Do you think Blake dissed Michigan?
Since the season isn't broadcasting live just yet, we may never know what really happened. Remarks may have been edited out of the video and left on the cutting room floor. Sadie's response to Blake (around the 2:45 mark) reiterating being originally from Michigan does seem to cut rather abruptly to the stage fright discussion, but who knows?
Blake Got A Michigan Contender Anyway
Despite the apparent Michigan drama involving Sadie Bass, Blake did end up becoming the coach for another Mid-Michigan contestant, 15-year-old Brayden Lape of Grass Lake. You can view his audition here.
Famous Singers from The Voice, Then + Now
Ten years (and counting) made a huge difference for many of the most popular singers and stars of
The Voice
.
Blake Shelton
looks noticeably different, but so do some of country music's most memorable performers.
Winners like
Cassadee Pope
and
Danielle Bradbery
wore baby faces when they auditioned during their respective seasons. The same can be said for
Morgan Wallen
, a forgotten castmember from the show who's transformed more than anyone else on this list of
The Voice
stars then and now.
8 Reality Stars You Forgot Were From Michigan
Reality TV has been around for decades now, making stars of "regular people". Here are 8 reality TV stars you may not have known were from Michigan.