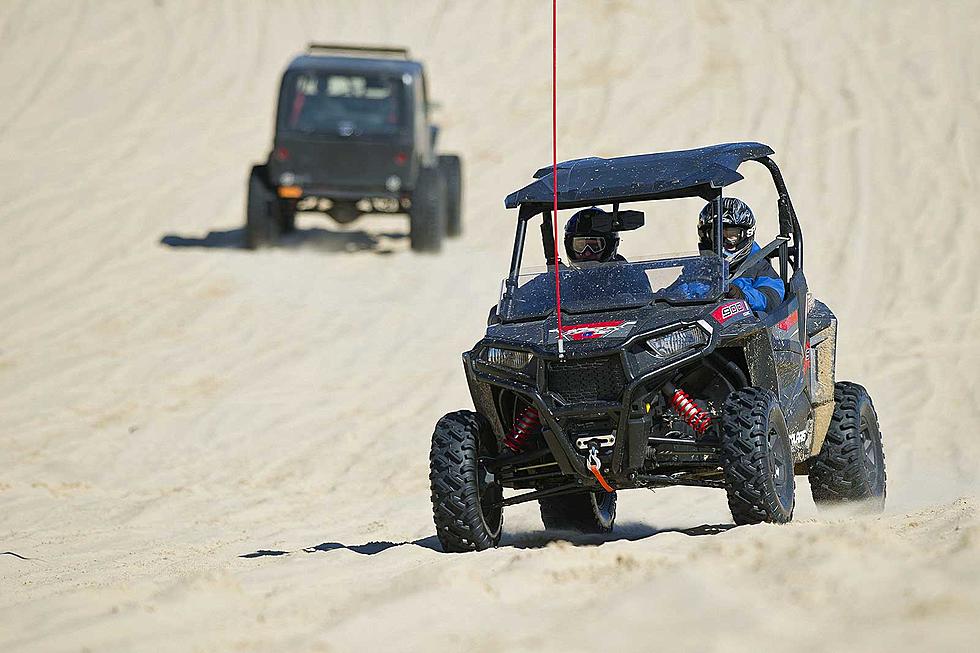 Fast Track Lane Hopes To Ease ORV Traffic At Silver Lake
Photo courtesy Michigan Department of Natural Resources (Oceana County)
The Michigan Department of Natural Resources say they are experimenting with a safety checkpoint fast track meant to get your ATV up on the dunes faster.
Long Lines At The Safety Checkpoint For ATV Caused Bottlenecks
The Off Road Vehicle Area at Silver Lake opened on April 1, with the DNR implementing a fast track lane through the safety checkpoint to help expediate traffic.
The idea is to have things moving smoothly so when the peak season coms after Memorial Day, long waits to get up on the dunes will be gone, if you're prepared.
In a post to the Silver Lake State Park Facebook page, the DNR highlighted the new rules:
Beginning this season an entrance experiment for dune ready vehicles will be tried to help us develop a more permanent dune ready express lane for properly prepared vehicles to enter more efficiently. The traffic flow will be to streamline completely dune ready vehicles straight to the Safety Checkpoint by allowing access through the gate opening on the side of the ORV parking lot. This is the gate area on your right side near the parking lot vault toilets. The solid red line/arrows are the pathway to be used by ONLY DUNE READY VEHICLES WHICH ARE COMPLETELY READY TO ENTER DIRECTLY INTO THE DUNES. If the vehicle is not dune ready, it will be sent in the traditional way (dotted red line/arrows). The orange line/arrows are the traditional clockwise travel direction of the parking lot.

To be considered DUNE READY vehicles must have proper tire air pressure of 15 psi or lower, properly mounted orange dune flag, seats and safety belts, ORV permit ORV Trail Permit and State Park Recreation Passport, not be towing another vehicle, etc. See the images included in this post for more dune ready information.
Please help us to make this a successful process by striving to make your vehicles as dune ready as you can. We realize that this temporary traffic pattern will take away a few parking spaces but once a more permanent dune ready pathway is developed these parking spaces will be put back into use.
In a nutshell, if you've been up there before and you know what the hell you're doing, you get to go to the front of the line. But beware, if you're not ready, they will send your butt back to square one, where the long wait is.
The Hope Is To Eliminate ORV Traffic Jams
Nobody wants to sit in a traffic jam or wait any longer, especially when it's 90 degrees outside the sun, beaten down, you're in a jeep with the top off and the air conditioning is not working very well for Jeep with the top off,"
Silver Lake Park Manager Jody Johnston told 9and10 News
 Tuesday.
The Dunes Will Also Have New Directional Signs To Aid ORV Drivers
"In the past, individuals, especially first-timers, that have come here not knowing the layout of the Off-Road Vehicle area would call, and they would say things like, "we're over by the water, we can see the water from where we're at by the big dune," and really you can see Lake Michigan for many high points in the Off-Road Vehicle area. So that led to a lot of confusion over the years," Caleb Davidson, Lead Park Ranger, Silver Lake State Park told 9and10 News.
There are 43 markers throughout the dunes, specifically in areas where most ORV accidents happen.
"We want to provide a safe and enjoyable recreation opportunity for all of our visitors, and that'll help us to expedite our response times and other first responders' response times."
The DNR say if things go well with these new experiments, they will become permanent.
So far, the response from most ORV drivers who frequent Silver Lake as been positive.
Some of the comments posted to Facebook:
Very smart move. I noticed some of the bigger beaches along Lake Michigan also have these!!! Awesome!!

Finally!

Thank you 

Silver Lake State Park

 for all of your work trying to figure out how to get people in easier! This sound like a great idea and hopefully it will work as good as it sounds. See you Friday!

Excellent!!
Of course, it is social media, and some people wore their cranky pants in the discussion:
Once upon a time, Silver Lake sand dunes were fun, the end.
That guy seems like the life of the party.
Completely Customized Coopersville Home Includes a Private Basement Salon
On the outside, this home is already pretty unique. However, have you ever seen a house with a private salon in the basement?