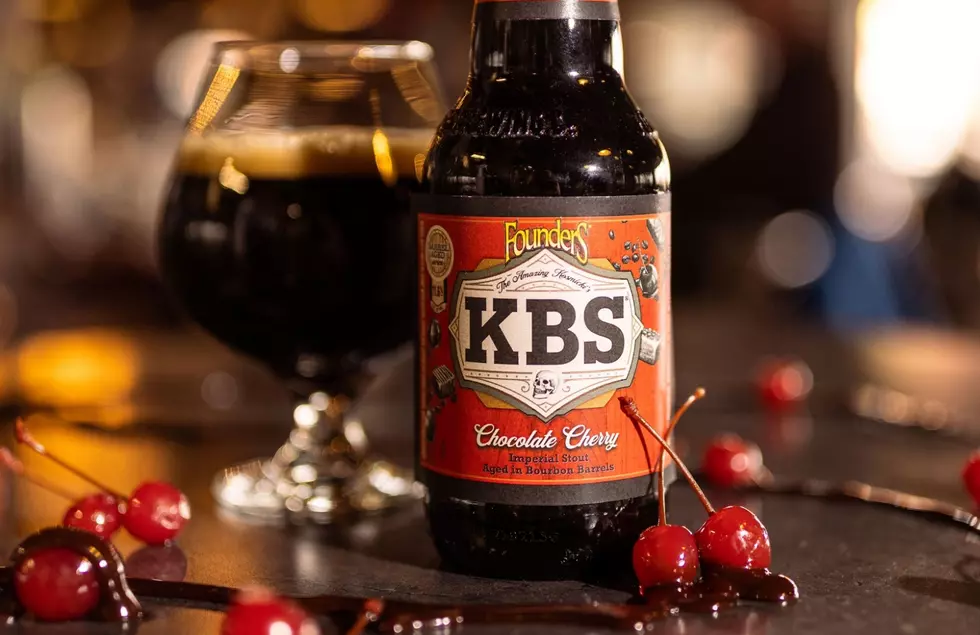 New Founders KBS Barrel Aged Flavor Will Get You Chocolate Cherry Wasted
Credit: Founders Brewing Co. via Faecbook
Michigan is home to so many great breweries.
Founders Brewing Company in Grand Rapids is known for its popular Kentucky Breakfast Stout (KBS).
Founders describes KBS as a big imperial stout brewed with a massive amount of coffee and chocolate and then bourbon barrel-aged to perfection, incredibly silky and full-bodied with notes of vanilla, cocoa, roasted coffee, and charred oak.
I describe it as freaking delicious!
Founders Kentucky Breakfast Stout Flavors
Founders Brewing Company has taken the popular stout and given beer lovers several different flavors that include:
Kentucky Breakfast Stout Cinnamon Vanilla Cocoa
Kentucky Breakfast Stout Espresso
Kentucky Breakfast Stout Maple Mackinac Fudge
Kentucky Breakfast Stout Hazelnut
I've tried all of the KBS flavors and my favorite one by far is the KBS Hazelnut. It's so good I have to be careful because I can easily find myself with four empty bottles and a hell of a buzz, it's that strong and smooth.
New Founders KBS Barrel Aged Flavor Will Get You Chocolate Wasted
Founders Brewing Company shared what the new KBS flavor Chocolate Cherry tastes like.
"The rich sweetness of chocolate and slight coffee bitterness blend perfectly with the brightness of cherry juice to bring you an alluring sensory experience. It's not overly sweet and stays true to the original KBS coming in at 11.6% ABV." - Founders Brewing Company

 
When Can You Get Your Hands On Founders KBS Chocolate Cherry?
You can visit either taproom on January 27 during Cellar Raid to get your first pour of KBS Chocolate Cherry, or find it on store shelves in February.
I can't wait to try KBS Chocolate Cherry and see if it's my new favorite flavor.
These 10 Rejected Michigan License Plates Are Hilarious
There are over 21,000 personalized plates that have been banned by the Michigan Department of State for being dirty, graphic, or hateful. These are some of them.
10 Old School Grand Rapids Menus Reveal How Cheap Eating Out Was Back In The Day
Check out these 10 old-school Grand Rapids menus that reveal how cheap eating out was back in the day.
Aspiring Brewer? Closed West Michigan Brewery is Now Up For Sale
Home is where the hops are. This former West Michigan brewery is for sale and could be your next home.