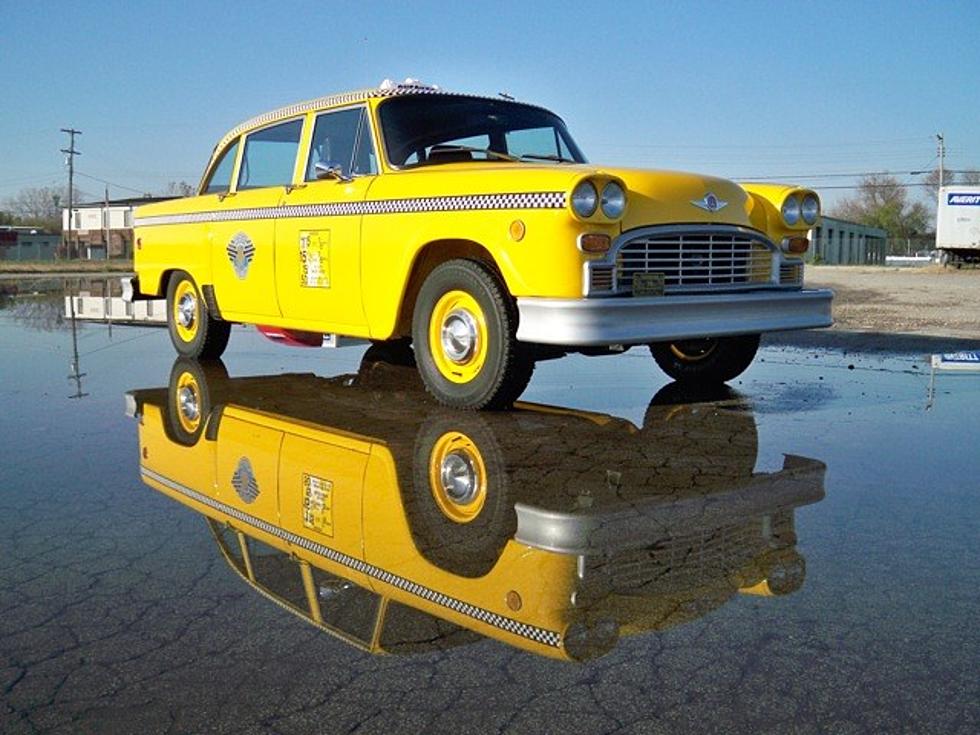 July 12, 1982: The Last Checker Cab Made in Kalamazoo
Checker Cab #1994-Photo from Todd Harroun
It's been decades since the last Checker Cab rolled off the line at the Pitcher Street factory on Kalamazoo's north side. The brawny and sturdy beasts once roamed  American cities like the buffalo on the great plains.   Now, a couple of generations of Americans have only experienced them in movies, like "Taxi-Driver."    But from 1922 to 1982,  Kalamazoo produced thousands and thousands of Checker cabs and trailers.  Along with Gibson guitars, Checker really put the city on the map.
We were talking on the radio about the last one rolling off the line on July 12th, 1982 and one of our listeners, Todd Harroun, sent us some great photos.   Todd has totally restored two of them, and has one of the very last ones produced in 1982.  It's a propane model.   Harroun says they made 2000 cars in their final year of production, and sent us pictures of #1994 of 2000.   You can see it in the lobby of the Kalamazoo Airport.
Harroun's other restoration project is pretty special too.  Cab 804 is a 1978 model that was featured in the TV show "Taxi".  Check out this video about it. 
Todd Harroun's Checker Cab Projects
Todd Harroun's family business provided fire protection equipment for the Checker Motors plant for decades, and when the final cab rolled off the line, he was able to acquire semi-loads of parts.   He's related to Ray Harroun, the winner of the very first Indy 500 in 1911.
Checker continued operation at partial capacity making parts for General Motors until January 2009 when it declared bankruptcy.
Some Checker Motors trivia:
Morris Markin, a clothier from Chicago, got into the auto business when a previous owner defaulted on a  $15,000 personal loan.
Markin established one of two cab companies in Chicago. The fighting between the two cab companies escalated to the point where Markin's home was firebombed, which prompted him to relocate Checker Cab Manufacturing to Michigan.
When  New York City regulated taxi services, they issued a limited number of cab operator permits and mandated that cabs have seating for five passengers in the rear compartment, which favored Checker.
At peak, Checker employed about 1,300 people.
Six months after the car line went down; the Peoples Republic of China called Checker wanting to order 5,000 units per year, indefinitely. But it was too late.
Checker Motors CEO David Markin fell victim to the Ponzi scheme started and run by Bernie Madoff.
Checker stayed in business for 27 more years after the last cab was made, making parts for GM and others, and even stamped kitchen sinks.
Two restored older Checkers reside in the Gilmore Museum in Kalamazoo, Michigan. One is a 1923 Model E, the other is a 1936 Model Y.
Getting To Know Kalamazoo A-Z
Whether you're moving, new or from Kalamazoo, here is a nutshell of our city, from A to Z.