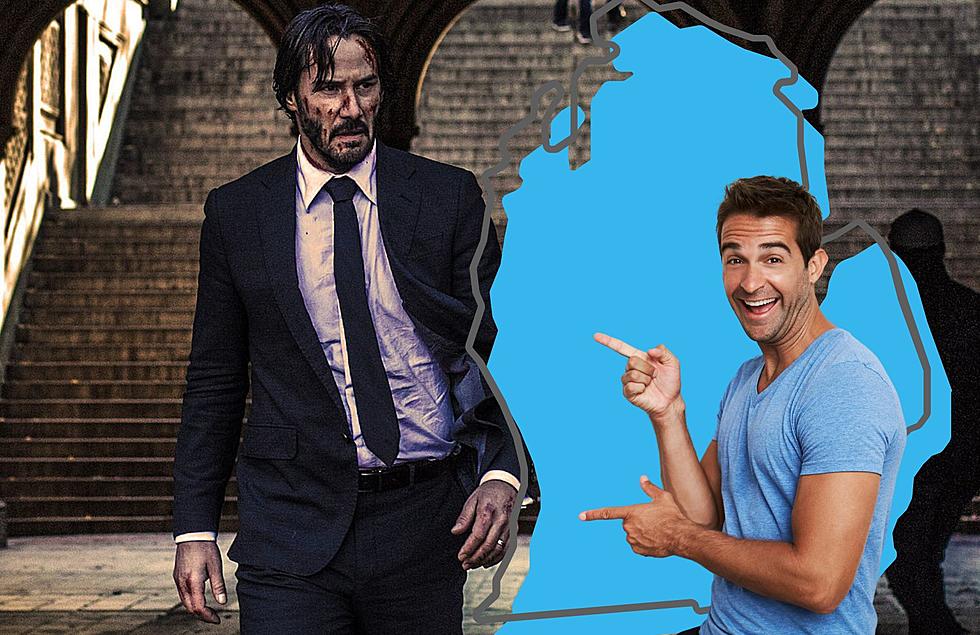 Don't Freak Out But You Have A Chance To See Keanu Reeves In Michigan
Canva / Lionsgate
When someone says the name Keanu Reeve, you probably think of him starting in popular action movies like The Matrix and John Wick.
You might also remember him in the 1989 movie Bill and Ted's Excellent Adventure.
Keanu will be coming to Michigan soon, but it has nothing to do with acting.
Keanu Reeves Does More Than Acting
If you're a diehard Keanu Reeve fan you might know this, but if you're like me and had no clue, not only is he an incredible actor, but he's also in a band.
What Is Keanu Reeves Band Called?
Keanu is in a band called Dogstar which is made up of himself on bass,
Bret Domrose on vocal/guitar
and Robert Mailhouse on drums.
Dogstar Has A New Album Coming Out
Dogstar has a new album coming out on October 6th called "Somewhere Between the Powerlines and Palm Trees" You can preorder it now.
What Kind Of Music Does Dogstar Play?
Dogstar is an Alternative Rock Band
They just released this music video for the song "Everything Turns Around"
Dogstar Is Performing In Michigan at The Majestic Theater
Keanu Reeve and his band Dogstar announced that they will be going on tour in Japan and North America with a show happening in Detroit.
Dogstar 2023 North American Tour
Dogstar's "Somewhere Between The Power Lines and Palm Trees" tour dates.
Thursday, August 10 in Hermosa Beach, CA at Saint Rocke
Friday, August 11 in Phoenix, AZ at the Crescent Ballroom
Saturday, August 12 in Las Vegas at the Brooklyn Bowl
Tuesday, August 15 in Salt Lake City at The Complex
Thursday, August 17 in Denver at the Marquis Theatre
Friday, August 18 in Boulder, CO at The Fox Theatre
Saturday, August 19 in Aspen, CO at Belly Up
Tuesday, August 22 in Napa, CA at the Uptown Theatre
Wednesday, August 23 in Menlo Park, CA at The Guild Theatre
Thursday, August 24 in San Luis Obispo, CA at the Fremont Theater
Saturday, August 26 in Ventura, CA at the Ventura Music Hall
Sunday, August 27 in Solana Beach, CA at Belly Up
Monday, August 28 in Santa Ana, CA at The Observatory
Thursday, November 30 in Los Angeles at The Troubadour
Sunday, December 3 in San Francisco at The Great American Music Hall
Tuesday, December 5 in Sacramento, CA at the Crest Theatre
Thursday, December 7 in Chicago at Thalia Hall
Friday, December 8 in Detroit at The Majestic Theatre
Saturday, December 9 in Toronto at Lee's Palace
Monday, December 11 in Brooklyn, NY at the Music Hall of Williamsburg
Tuesday, December 12 in Boston at the Paradise Rock Club
Thursday, December 14 in Philadelphia at Underground Arts
Friday, December 15 Washington, DC at The Howard Theatre
Saturday, December 16 in Norfolk, VA at The NorVa
Monday, December 18 in Charlotte, NC at The Underground
Tuesday, December 19 in Atlanta at Center Stage
Wednesday, December 20 in Nashville at Brooklyn Bowl
Buy Tickets To See Dogstar At The Majestic Theater In Detroit
Dogstar tickets are now on sale and you can get them at the band's website.
Michigan Celebrities First Jobs
Before they became famous they had regular jobs just like us.
Famous Celebrities You Might Not Know Are From Michigan
You will definitely recognize these names and faces, but might be surprised to find out they're from Michigan.
25 Things Michigan Is Known And Famous For
Michigan is known as the Motor City and is home to Motown. But that just scratches the surface of what the Mitten state is known and famous for.