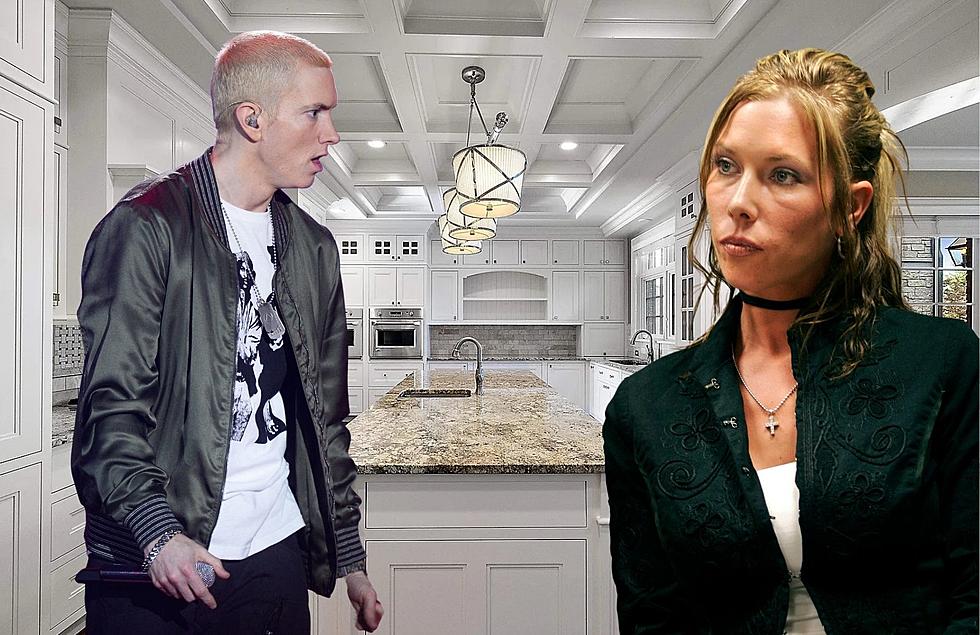 The Real Slim Shady's Ex Wife Is Selling Her Beautiful Michigan Mansion
Credit: Getty / Zillow / Canva
If you're a fan of Eminem then you have probably heard about his ex-wife Kim Mathers
The two met in high school in Michigan in 1988 when Kim was 13 and Eminem was 15
They began dating and moved in together quickly. The couple eventually had a daughter, 
Hailie Mathers
, in 1995 and got married in 1999.
Eminem and Kim's Rocky Relationship
However, their relationship was rocky, and they got divorced in 2001
They decided to give love another try in 2006 but divorced again the same year
Eminem's first album included a song called
"Kim"
which had threats directed towards Kim, their relationship became even more tumultuous over the years
Trouble With The Law
Kim has had a few run-ins with the law, including arrests for possession of illegal substances.
She struggled with cocaine addiction, which kept her in and out of court and rehab.
 Kim Mathers Macomb Mansion Up For Sale
Kim recently listed her home in Macomb Township for sale.
The house is listed for $1,699,000.
It comes with 6 bedrooms, 7 bathrooms and is 6,640 sqft in size.
The house sits on 3.4 acres of land.
There is also a three-car garage.
Make sure you bring a bathing suit for the Gunite pool.
I'm unsure if Kim is downsizing because her daughter is now in college at Michigan State University but it would be hard for me to let this place go.
Let's take a tour of Kim Mathers Macomb Mansion.
You Can Own Eminem's Ex's Michigan Mansion for $1.7 Million Dollars
The Ins and Outs of the beautiful Macomb Michigan mansion left behind by Kim Mathers, the ex-wife of award-winning rapper Eminem, also known as Marshall Mathers.
Detroit Pistons Marvin Bagley III's California Mansion for Sale for $1.99M
Pistons forward Marvin Bagely the III has
listed
his Elk Grove, Calif., residence for $1,995,000. The mansion boasts 9 bedrooms, 8.5baths, 6,802 square feet on 2 acres. Unique features include a full size NBA court with scoreboard, outdoor Jumbtron, three outdoor bars, and a theatre room.
Where Eminem Lived in Michigan
LOOK: Famous Historic Homes in Every State