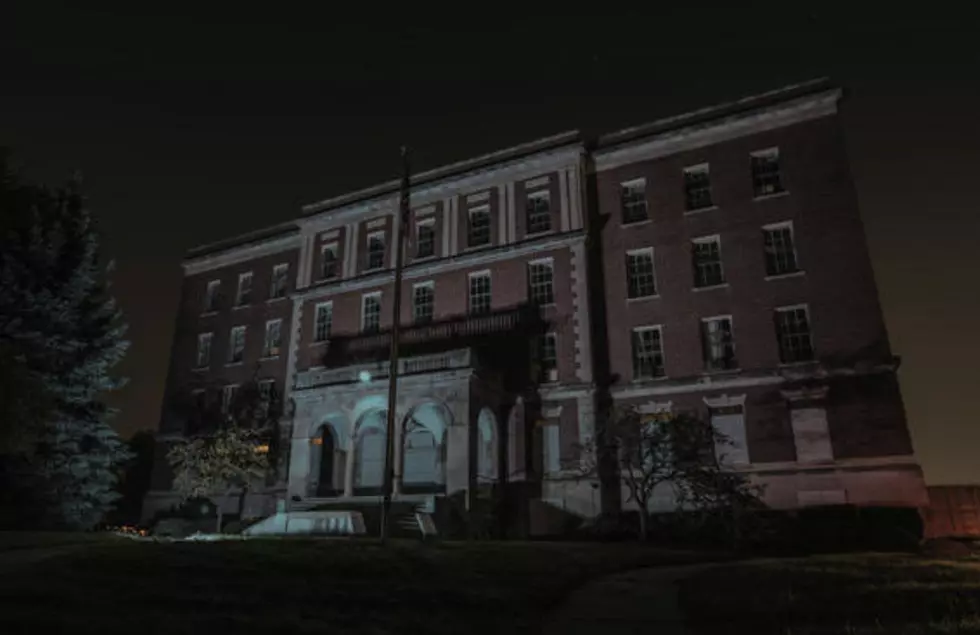 Michigan Haunted House Makes List Of Top 13 Scariest In The Country
Credit: Eloise Asylum via Facebook
Summer is over, the sun is setting earlier, and spooky season is upon us. If you're looking for the perfect haunted house then you've come to the right place.
If you think you can handle it, let's check out these haunted houses, one of them is located in Michigan and has been voted as the top 13 scariest haunted houses in America.
Michigan Haunted House Has Been Voted As One Of The Scariest In America
If you like haunted houses this list is for you. If not you might want to look away. HauntedWorld.com has come out with a list of the 13 scariest haunted houses in America.
How Did Haunted World co/ming up with the list?
According to Haunted World, they have been publishing its TOP 13 SCARIEST HAUNTED HOUSES list for nearly two decades. Today many websites publish haunted house best-of lists, for click bait, despite never attending or researching any of the attractions on their list. Hauntworld is the leader, creating content for the haunted attraction industry, publishing the industry's only magazine, Hauntworld Magazine, and how-to videos with educational content for attraction owners.
These Are The Top 13 Scariest Haunted Houses In America For 2022
Number 13
Factory of Terror - Canton, Ohio
The Factory of Terror, located in Canton, Ohio, is one of the LARGEST INDOOR HAUNTED HOUSES IN THE WORLD, recognized by Guinness World Records three times for this achievement. This enormous haunt is more than a mile long and consists of five unique spine-chilling attractions; 1300 Lost Souls, Industrial Nightmare, Lafayette 13, Massacre on Mahoning, and the brand new The Abyss. To take advantage of every minute, talented actors and performers are scattered throughout the queue lines to entertain patrons as they anxiously await to enter each attraction.
Number 12
 SLC Fear Factory - Salt Lake City, Utah
Fear Factory is one of the top Halloween attractions in the world, made up of 6 buildings, up to 6 stories high, with 2 underground passages, and is a massive haunted attraction in Salt Lake City, Utah, U.S.A.  Fear Factory has quickly grown to be one of Utah's - and the world's - favorite Halloween entertainment attractions. Fear Factory - an attraction so vast that a waiver is required to be signed prior to entry - opens each fall, as well as periodically throughout the year for special events. The attraction has seen more than 11 documented historical deaths, has been featured in TV shows and movies, boasts over 100 nightly live actors, and is heavily awarded within the industry. It's a great place to bring family, friends, coworkers and more for an evening of entertainment, thrills and fun.
Number 11
Georgetown Morgue - Seattle, Washington
The Georgetown Morgue in Seattle attracts more than just adventurous city folk looking for a good scare, thrill-seeking quests to make the journey from all over the Puget Sound region, Because the Georgetown Morgue isn't just a haunted house, it's legendary. The Georgetown Morgue is a facility for tragic stories of death. The morgue has a history of thousands of funeral preparations, cremations, and the processing of animal Carcasses. The morgue holds what is considered to be the most horrifying unsolved crime in Seattle's history. October 1968, nine of their staff were forced into the cremation chamber. There were no surviving witnesses, nor were any suspects ever identified.
Number 10
Hundred Acres Manor - Bethel Park, Pennsylvania
Pittsburgh's Top Halloween Tradition, Hundred Acres Manor, brings you a whole new vision of horror and fun all within one haunted house in Pittsburgh, PA! Hundred Acres Manor features a 5 themed haunted house sections as one LARGE walk-thru with add on attractions like  burial simulators voiced by horror legend Tom Savini, beer garden, insanity maze AND MORE!
Number 09
Headless Horseman Hayride - Ulster Park, New York
Headless Horseman Haunted Attractions is a unique, immersive experience, celebrating our 30th anniversary.  This year's theme is The Horseman's Night of The Shadows.  The event features a theatrical walk through, and nine additional haunted attractions.  The experience includes stunt performers, trained actors, monsters, pyrotechnics, professional illusions, and a cast and crew of over 300.  In addition, there is a magic illusion stage show, food eateries, retail shops, and donut bakery.  Headless Horseman Escape Rooms are also open nightly during the Halloween season.  Children's Days - A Tiny Taste of Terror, is the daytime event, suitable for children ages 1–9.   The event goes from scary to merry for A Frosty Fest, a Winter Holiday Light Spectacular.  Also, stay at The Horseman House via Airbnb.
Number 08
Spookywoods - Greensboro, North Carolina
Kersey Valley is located right in the heart of North Carolina.  With I-85 and I-74 on two sides of the 100-acre farm making it is easy to access from major highways.  Founded in 1985 from a dare between teenagers to enter an abandoned farm house has evolved to employ over several hundred on staff.  What started with humble beginings has expanded with year-round attractions across the entire farm. Much more than Spooky Woods haunted house, it's a full weekend of attractions to experience at Kersey Valley from zipline tours, escape games, ax throwing tours, daytime family events with the Maize Adventure, and even a massive Christmas light show after Thanksgiving.  Halloween is a 40-hour-per-week effort with a full-time art department and build crew focused on creating new set designs, themed down to the smallest of details in costumes all created on the property.
Number 07 
Bennett's Curse - Baltimore, Maryland
Maryland and DC's #1 Halloween Event! Locally owned and operated small family business since 2001. Bennett's Curse Haunted Attraction in Baltimore county, Maryland, with it's close proximity to Washington DC and southern Pennsylvania continues to dominate the Mid-Atlantic region from Philadelphia to Richmond and is renowned and highly respected in the haunted world. Known far and wide for its incredible array of giant monsters, detailed sets, and impressive theming, the legendary Bennett's Curse consisentely ranks as one of the best Haunted Houses in America year after year!
Number 06 
The Dent Schoolhouse - Cincinnati, Ohio
Relive the legend of a murderous Janitor and find out the truth about what went on behind the walls of Cincinnati's Halloween Tradition! Cinematic sets, award winning makeup, and sinister storytelling make each trip through the Dent Schoolhouse feel like a real-life horror movie! Over 500 carved pumpkins pepper the unique interactive queue line and guest areas outside the school. Behind the attraction sits the Monster Midway, a large interactive experience! Mini escape games, fresh donuts, axe throwing, The Spooky Shop gift shop, and massive photo ops makes a night out to The Dent Schoolhouse a perfect Fall experience! Plus, the building alone is a haunted house icon. The schoolhouse has been featured on E!, BuzzFeed, USA Today, Forbes, Fangoria, and more! You may have seen this haunted school on the Travel Channel show- Halloween Crazy! , Toy Hunters, and Skin Wars. Hauntseekers from all over the United States travel to see the extreme detail and sets in the haunted hallways of The Dent Schoolhouse. Are you ready to meet the haunt icon Charlie the Janitor and the frightening faculty of The Dent Schoolhouse?
Number 05
Eloise Asylum - Westland, Michigan 
Located in the heart of southeast Michigan, lies the most infamous haunted site in the Midwest -  The Eloise Asylum. The Massive building, is a towering five stories of brick and glass and is home to two of Americas most terrifying, cutting edge haunted attractions. Guests arrive in the Shadow of "HER", the Eloise Asylum Building. After venturing across the sprawling property, they are permitted to enter into the Asylum. Guests will quickly find themselves overwhelmed by the army of monsters and killers they will face inside.
Number 04
The Darkness - St. Louis, Missouri

Some rank The Darkness the best haunted house in America due to its amazing set design and the industries largest collection of monsters, animations and special fx along with a huge horror themed gift store.  The Darkness is a complete haunted attraction the ultimate Horror experience with outdoor screamzones, two floors of fear, and Terror Visions 3D, Monster Museum, with one of America's Best escape room facilities next door St Louis Escape.  The Darkness features over 300 animated special fx, including animated monsters, cgi animation, projections, moving floors, and more.
Number 03
Hellsgate - Lockport, Illinois
HellsGate isn't just a haunted house….It's an Adventure! The only haunted house in Chicagoland that is hidden deep in the woods, will challenge its audience to walk the  haunted trails, cross the zombie filled cemetery, navigate the secret passages throughout the mansion, and ride the slide into the basement,…..just got scarier!  Zombie Army Productions has not only expanded HellsGate in every direction with new rooms, experiences, and scares, but we have also welcomed the Escaped Prisoners of Statesville Haunted Prison into our dark world. Fluffy, Sharky, and the Statesville Crew have joined forces with HellsGate and are now roaming the halls and hiding in the woods.
Number 02 
13th Gate - Baton Rouge, Louisiana
The 13th Gate is a haunted attraction that is known for its extreme ultra-realism and is one of the most detailed haunted houses in existence. The artists behind the massive dark attraction are experts at blurring the lines between horror and reality, and guests frequently wonder between screams whether what they are experiencing is real or not. The Attraction's level of detail, set design, and effects combined with their impressive actors and incredible makeup effects can only be compared to a Hollywood movie. The attraction features a life-like pirate ship, a stroll through the dangerous streets of Whitechapel, hidden subterranean passages filled with live snakes, and even an outdoor, zombie-infested graveyard, all seamlessly woven together and nothing short of masterful. The haunted house is constantly changing and growing from year to year so guests never know what to expect around the next terrifying corner.
Number 01
Pennhurst Asylum - Spring City, Pennsylvania
Hidden in the old forests of northern Chester County, lies Pennhurst Asylum. Just forty-five minutes from Philadelphia lies a sprawling campus of monolithic abandoned buildings which stand as sentries over you as you follow the dark and twisted paths and catwalks. Journey deep into the heart of one of the most haunted places in America as you experience new levels of fear.
LOOK: How Halloween has changed in the past 100 years
Stacker
compiled a list of ways that Halloween has changed over the last 100 years, from how we celebrate it on the day to the costumes we wear trick-or-treating. We've included events, inventions, and trends that changed the ways that Halloween was celebrated over time. Many of these traditions were phased out over time. But just like fake blood in a carpet, every bit of Halloween's history left an impression we can see traces of today.