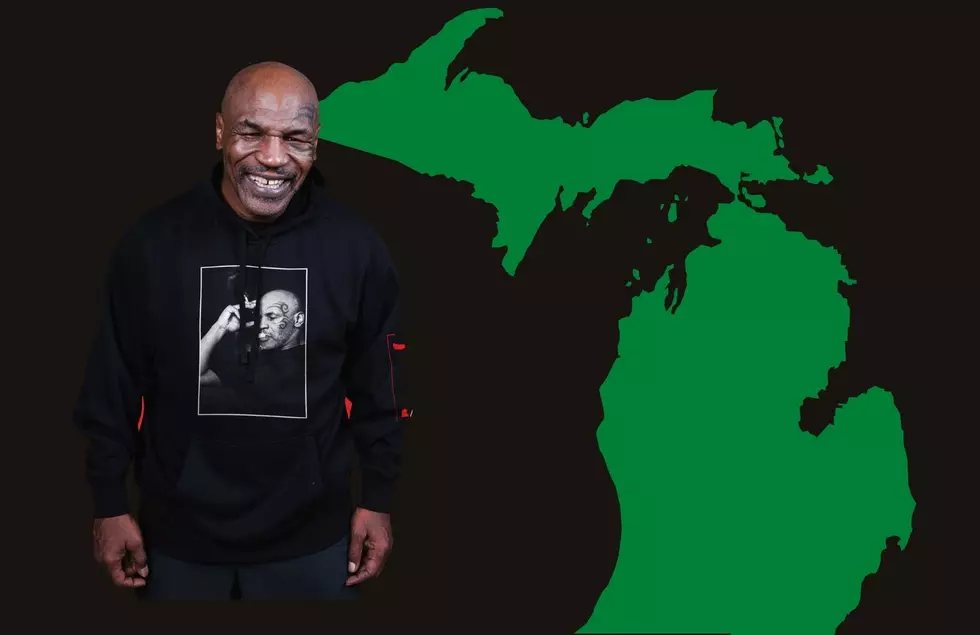 Meet Heavyweight Champion Mike Tyson When He's In Michigan On Friday
Credit: Canva / Tyson 2.0 via Facebook
Former boxing Heavyweight Champion "Iron Mike" Tyson will be in Michigan this Friday but it's got nothing to do with boxing.
Tyson will be in Michigan for a private party, but before the party, he will be in two Michigan cities hanging with his 4/20 friends.
Mike Tyson Has A Weed Brand Called Tyson 2.0
Back in February, Mike Tyson brought his "Tyson 2.0" brand to several Michigan locations. Now he's coming back to Michigan this Friday, October 21st and you can meet him at two different Michigan dispensary locations.
According to Metro Times Tyson will be at Puff Cannabis from 3-3:30 p.m. Then he'll head to the Ferndale Liv Cannabis location from 4-5 p.m., where he'll take photos with the first 100 customers who buy Tyson 2.0 products. Starting at 9 a.m., customers who buy Tyson 2.0 branded weed will be given a wristband to come back and get their photo.
Puff Cannabis Company in Madison Heights
Liv Cannabis in Ferndale
Mike Tyson will be at a Halloween-themed party later that night in Hazel Park at Michigan's first cannabis consumption lounge Hotbox Social. Unfortunately, if you wanted to meet him there you're out of luck, the party is invite-only.
Where Can You Buy Mike Tyson's "Tyson 2.0?
You can find Mike Tyson's "Tyson 2.0" Weed in several West Michigan Locations
Gage Grand Rapids - 3075 Peregrine Dr NE, Grand Rapids, Michigan 49505

Body and Mind Michigan - 885 E Apple Ave, Muskegon, Michigan 49442
To find a dispensary near you that sells "Tyson 2.0"  click here
Got The Munchies? Check Out These Foods Michiganders Love
There are some foods that are just Pure Michigan. Here are 14 treats that Michiganders can't get enough of.