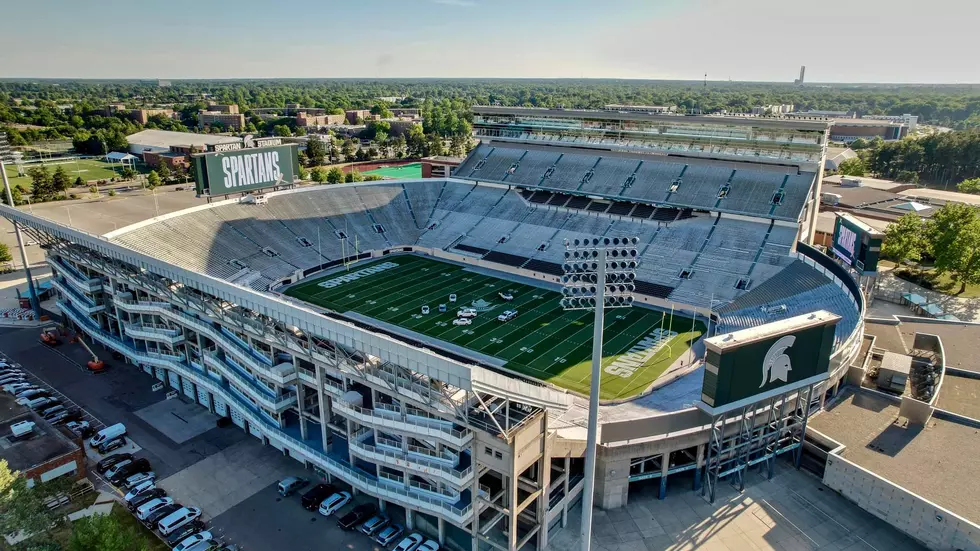 Spartan Fans Can Vote Now on the 2022 Football Student Section T-Shirt
Credit: Michigan State Football via Facebook
The 2022 Michigan State Spartan football season is just around the corner and they're asking for your vote to pick out what the 2022 football section T-Shirt should be.
Michigan State Spartans Football 2022 Football Student Section T-Shirt Options
There are two different options for the Michigan State Football student section T-shirt. The first option has Sparty on the front with Go Green Go White on the back. The second option features the words Michigan State Spartans Football with the state of Michigan in place of the letter A on the front and on the back it also says Go Green Go White like the first option does.
How Michigan State Spartan Students Can Get Season Tickets And The T-Shirt
According to msuspartans.com student season admissions are currently on sale for all Michigan State students by visiting msuspartans.com/STX.
The cost is $185 and includes admission to all seven home games and the official student section t-shirt. For more information on the Michigan State student sections, visit msuspartans.com/studentsections.
How Do You Buy Season Tickets For Michigan State Football?
The general public season tickets are on sale now. Get more information and buy season tickets at msuspartans.com/footballtickets.
What Teams Are The Spartans Playing At Home In 2022
September 2nd vs. Western Michigan
September 10th vs. Akron
Septermber 24th vs. Minesotta
October 8th vs. Michigan State
October 15th vs. Wisconsin (Home Coming Game)
November 12th vs. Rutgers
November 19th vs. Indiana
When Will The Winning Shirt Be Announced
After all the votes are tallied up Spartan fans can expect to see the winning pick later this summer.
Cast your vote now (unless you're a Wolverine fan) by clicking here
18 Things You'll Love Doing in Lansing & Mid Michigan
Traveling for summer is expensive, so you should just do a staycation in Lansing. Here are some places to visit.
5 Things The Detroit Media Should Look Into Instead Of MSU Athletics Donations
The Detroit Free Press is suing Michigan State University for records pertaining to donations from two billionaire alumni that helped fund Mel Tucker's 10-year, $95 million contract extension. It's peculiar that the Detroit media has such dogged interest in menial and old news at Michigan State after displaying a distinctly different appetite for coverage of the Robert Anderson scandal at Michigan.
Regardless, it appears that the Detroit media is eager to wield its investigative power to hold public institutions and figures to account. With that in mind, we've come up with a few things that would actually merit their attention, effort, and resources, unlike beating down the door for MSU's tax-deduction receipts.