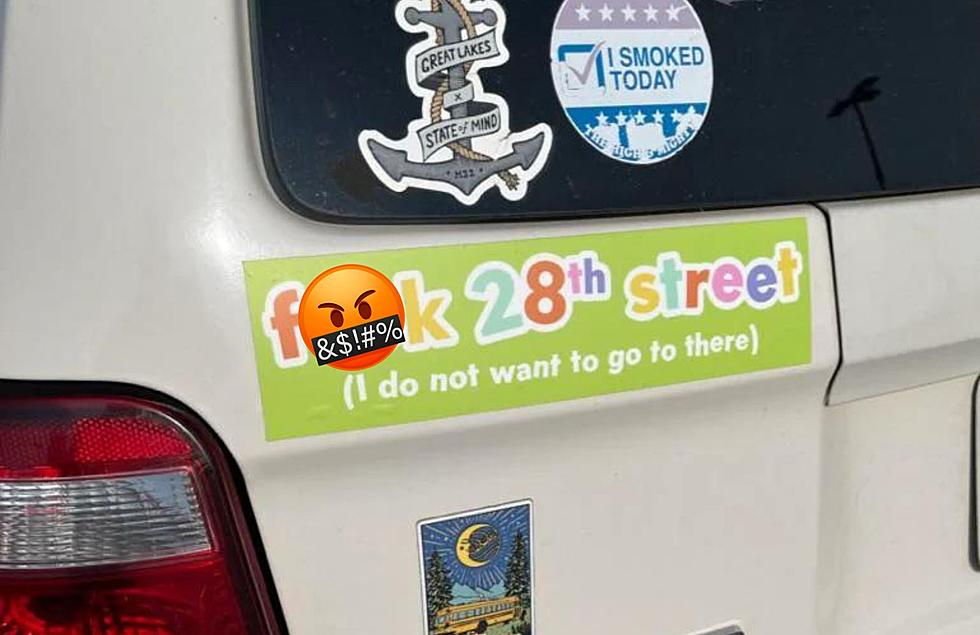 No, The Traffic on 28th Street Isn't THAT Awful
Reddit / Canva
When I moved to Grand Rapids nearly two years ago, one of the first things that my husband and others warned me of was that the traffic on 28th Street (M11) is terrible, and that I should really avoid the area at all costs.
And some people in Grand Rapids REALLY hate 28th street, to the point that I keep seeing people out there with these NSFW bumper stickers from Rebel:
(In fact, I spotted one in the wild just yesterday.)
But the longer I live in Grand Rapids the more I just don't see the reason for the hate for one of the most populated roads in the area. Maybe it's because I spent most of my adult life in bigger cities, but I've never sat in traffic for more than 5-10 minutes at any stretch of 28th street, at any time of day.
Meanwhile, every single time I've visited Chicago, no matter what time of day it was, as soon as I reach the city I've been stuck in the same spot for up to an hour, contemplating if owning a motor vehicle was worth it.
Even in my old city of Louisville, Kentucky there were a few interstates that if you hit them at the right time, you were guaranteed to sit in traffic for up to an hour while things sorted themselves out. I've yet to experience anything CLOSE to that on the worst day in West Michigan.
So sure, sitting in traffic kinda sucks, and it does get a tiny bit messy near 96 during the 5pm rush, it's still nothing to complain or whine about. And light timing sucks anywhere you are in Grand Rapids, so that's not really a valid complaint either.
And if your reasoning for hating the area is because of chain restaurants and stores, you're also discounting some great local businesses that call that area home too. At this point, It feels like people are being haters just to be haters.
Just to go to bat for them- you'd be skipping out on Schuller's Books, Flowerland, and a few really great locally owned restaurants like Uccello's Pizzeria, Mikado Sushi Restaurant, or some of my favorite donut places like Marge's Donut Den and Cindy's.
Also, it's easy to skip the traffic if you're really in that much of a hurry by using roads like 29th or Burton, so it's not even unavoidable for businesses in the area.
So no, the traffic on 28th street really isn't that bad. You've got this, just turn the radio up and take a deep breath, you're not going to be waiting THAT long.
8 landmarks Anyone In Grand Rapids Would Recognize
If you were born in Grand Rapids or have only lived here for a short time there's a good chance you will recognize the 8 landmarks