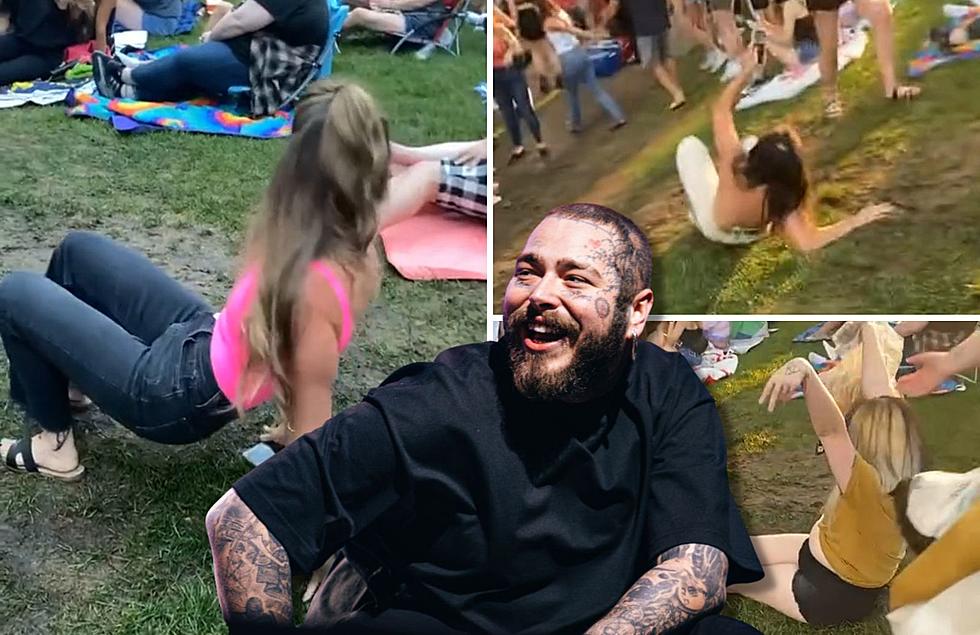 Post Malone's Detroit Show Became A Slip And Slide For Fans
Getty Images / xochelsealynn on Tiktok / Canva
Seeing Post Malone live is absolutely on my bucketlist. He's got such a great stage presence and back and forth with his fan base, it's guaranteed to be a great night.
That's why thousands of his fans showed up Tuesday (July 11th) to Pine Knob to get a taste of the "I like you" singer's concert.
He made it worth their time, and gave us a little taste of his love of Michigan by coming out on stage wearing an Insane Clown Posse jersey, then he closed his nearly 2 hour long show by rocking a Bob Seger T-shirt.
But the real show wasn't on stage, it was in the "cheap seats" on the hill.
While not all of Michigan saw rain on Tuesday, it did manage to rain just enough in the area around Pine Knob that it caused the grassy areas of the venue to get a little slippery and muddy.
And when you add people who have been drinking and a muddy hill to the combination, you're bound to have some slips, slides and falls.
Thankfully, TikTok user @xochelsealynn was there with her camera phone in hand to capture some of the chaos that was happening just off stage before Posty went on.
Several people took some pretty big spills, including this girl who must have had a few falls before she appeared on camera based on the giant mud spot on her super cute pants.
Meanwhile, this girl made the best of her situation by trying to go with the flow after her fall
But the real MVP? This girl who figured out she could just crab walk down the hill to keep from falling. (A brave idea, but it worked for her!)
The video is laugh out loud funny, and obviously we're happy no one was hurt. But you can view all 3 minutes of hilarious falls here:
Come for the Post Malone show, stay for the accidental slip and slide in GA.
Rock Concerts Coming to Pine Knob 2023
Rock concerts that are coming to Pine Knob in 2023. As more concerts get announced, we'll add them to the growing list of rock shows.