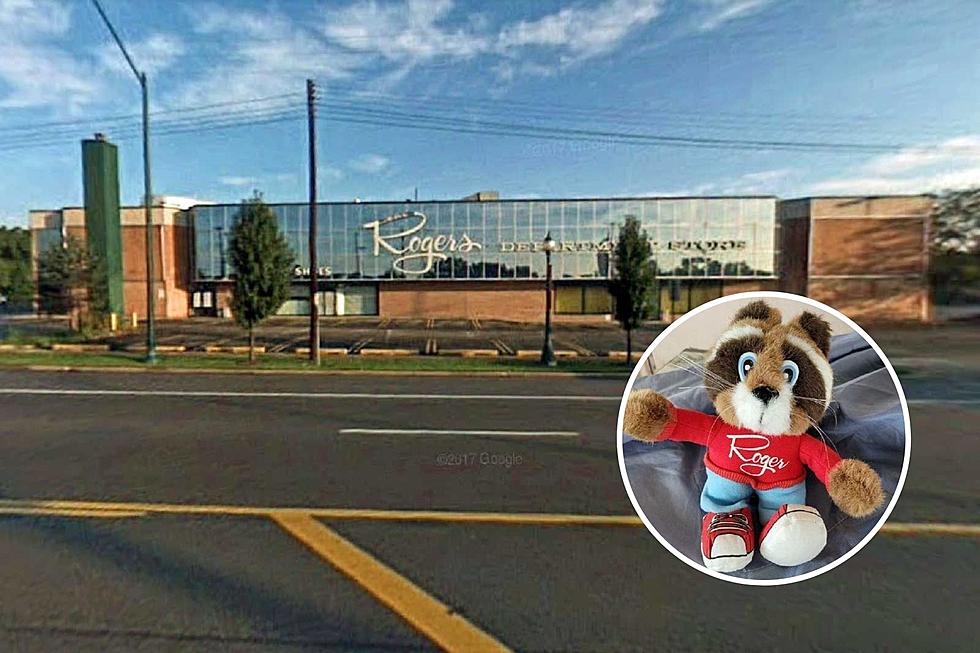 A Look Back: Do You Remember Rogers Department Store?
Photo: Google Maps. Ann Margaret Meekhof-Berg via Facebook
Many people shopped at Rogers Department Store back in the day. It was located on 28th Street in Wyoming, directly across from Rogers Plaza.
For a lot of people, including me, our first credit card came from Rogers! To help us establish credit, people would start small with a credit card from Rogers Department Store. I think my card had a limit of maybe $200 at the time, but I used it every couple of months and paid off the bill, to help me establish credit when I didn't have anything else to do that.
A Unique Thrift Store Find
While scrolling through Facebook recently, I noticed a post from Ann Margaret Meekhof-Berg. She recently was at a thrift store and saw a stuffed animal of Rogers Department Store's mascot "Roger the Raccoon".
What was really interesting is that Ann now lives in California, and the thrift shop she was shopping at is located in Palm Springs! That's quite a distance from Wyoming, MI. If only "Roger" could talk and tell us about his journey from Wyoming, MI to Palm Springs, CA!
I messaged Ann and asked if she had purchased the stuffed animal...Yes, she did. She paid 50 cents for it!
The History of Rogers Department Store
Rogers Department Store stood proudly at 1001 28th Street in Wyoming. It was founded by Hyman Berkowitz. (He was also known simply at Hy or Mr. Berk.) The store was successful for 50 years. During that time, Rogers Department Store was known for their high quality of service and goods.
Mr. Berkowitz retired in 1998 and died the following year. Rogers Department Store continued on under the direction of his grandson, Daniel Hurwitz.
As shopping trends shifted, along with the opening of Rivertown Crossings Mall on 44th Street, there were fewer shoppers at Rogers Department Store. There were the loyal shoppers who continued buying there, but there was not enough of them to keep the store open. The store closed in 2005.
Hurwitz had a history in the retail business, opening up Daniel's in 2003 and Rogers Big & Tall store in 2005 (just months after Rogers Department Store closed their doors). Both stores were located at the Terrazzo Fine Shops Plaza on East Paris Ave., SE. Unfortunately, those stores only lasted for an additional five years. Due to a difficult economic climate, an evolving retail industry, and a tight credit market, the stores closed their doors in 2010.
Rogers Department Store TV Commercials
On YouTube there are three commercials for the Rogers Department Store annual sidewalk sale. The yearly event was always highly anticipated by loyal shoppers. Featured in the TV ads are 100.5 The River's Andy Rent and his former radio partner Dennis Sutton...
See What Grand Rapids Looked Like Almost 100 Years Ago
A look back at what the city of Grand Rapids looked like sometime in the 1920s. The pictures come from a film called "Grand Rapids Gateway to the Playground of a Nation and the Furniture Capital of America". The film was used to get businesses and organizations to have their conventions in the city of Grand Rapids, MI.