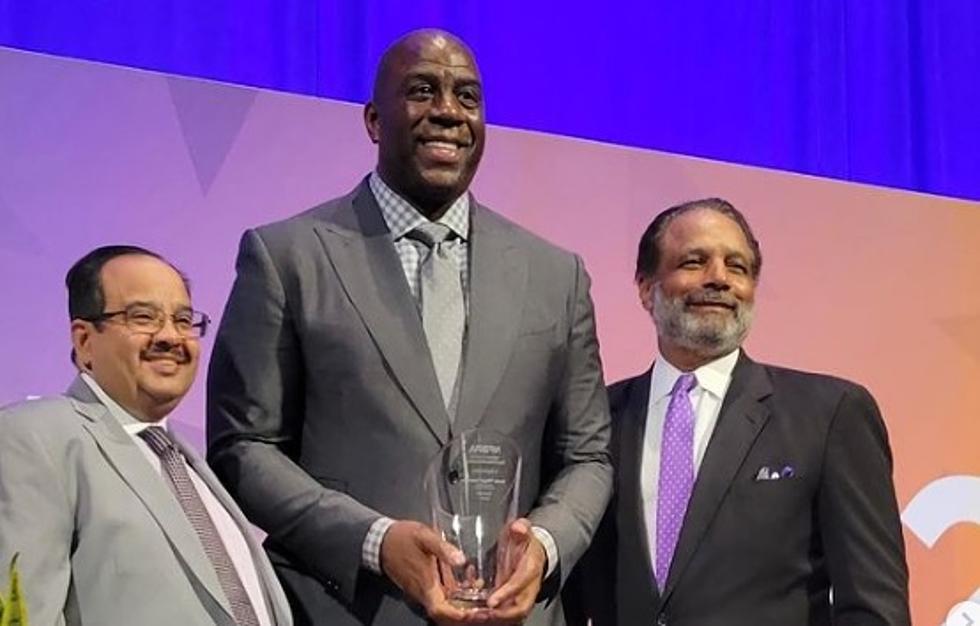 So Here's Why Magic Johnson Was In Town Thursday
@magicjohnson via Instagram
He never did take me up on my offer for a rematch, but Magic Johnson wowed some folks in town on Thursday.
It's The Answer From My Earlier Question
Earlier this week, I wondered why Magic Johnson's private jet had landed at Gerald R. Ford Airport. A couple of people messaged me with some ideas, but none of them were correct.
As it turns out, Magic posted to his Instagram feed earlier Friday that he was here Thursday to speak at the National Forum For Black Public Administrators 'Forum 2022' event at DeVos Place.
Magic was not alone in speaking to the group. The brochure advertising the event promised 100 speakers over 4 days! Whew! That's a lot of content to take in. Yup. 32 hours to be precise.
Magic Is Probably Better Known As A Successful Business Man As He Is A Hoop Star
The Hall of Fame basketball star has given way to a business man who loves being a mentor to those who want to follow his successful path. Magic posted to his Instagram this shout out to the local gathering:
What a great morning at the NFBPA Forum 2022 event in Grand Rapids! I delivered a powerful message about business, entrepreneurship, supporting communities and partnering with cities and counties to elected officials, mayors and local government employees across the country. Thank you to My partner, Cigna President Mike Triplett and National Forum for Black Public Administrators President Dr. Calvin Jamison, and National Corporate Council Chair Marty Turpeau for having me!
Grand Rapids Mayor Rosalynn Bliss joined Magic at the gathering, as he towered over just about everyone there:
Alas, he never took me up on my offer to relive our basketball feud from years past. I guess he's gotten over it, while I haven't. And probably never will...
Michigan's Top April Fool's Day Pranks