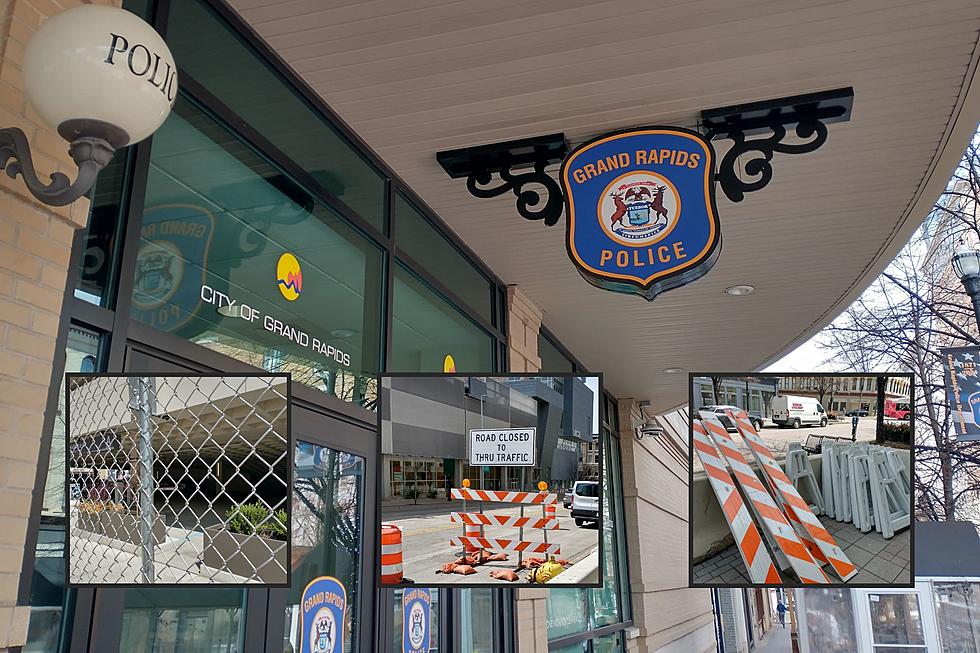 Barricades & Fencing Rising Around Grand Rapids Police Department Downtown
Ken Evans/TSM
The installation of barricades in the blocks surrounding the Grand Rapids Police Department has many wondering if the police are expecting civil unrest once again in West Michigan.
The barricades showed up on Tuesday morning in Grand Rapids on Monroe Center, Ionia, Division, and Fulton. These roadways surround the GRPD headquarters in downtown Grand Rapids.
As of Tuesday afternoon, the barricades were being fitted with 3-foot-fencing by a local fencing contractor.
Workers on site could not confirm if the entire block is set to be surrounded by the bariicades and fencing.
Online discussion has surrounded the impending release of bodycam and other footage of the killing of Patrick Lyoya in Grand Rapids.
Video of the killing has yet to be released to the public, but the GRPD announced that they would do so by Friday the 15th.
Many online feel that the video's release will show that the unnamed GRPD officer who killed Lyoya was not justified in the man's killing:
I can't imagine how the City could have possibly f***ed up this response worse than they have.

If the video does indeed show what the family claims it does, they should have immediately released the video and arrested the cop. Instead they fiddle f***ed around with an "investigation". All the while, tensions increase and will eventually result in riots. -Alger Heights Resident
It's kinda ironic that they are placing barricades to protect themselves from us. Where are our barricades to protect us from them?

The concept of them needing to maintain the safety of the public, when they are the danger, is also pretty ludicrous. -WhenitsaysLIBBYs
Grand Rapids Businesses People Love Going Back To
These are local businesses Grand Rapids Reddit users love going back to time and time again because of the amazing food, drinks, atmosphere, and customer service.
11 Helpful Facebook Groups in West Michigan That You Need to Join
These Facebook groups are a great way to stay connected to what's happening in West Michigan, whether you're new to town or have been a lifelong Michigander.