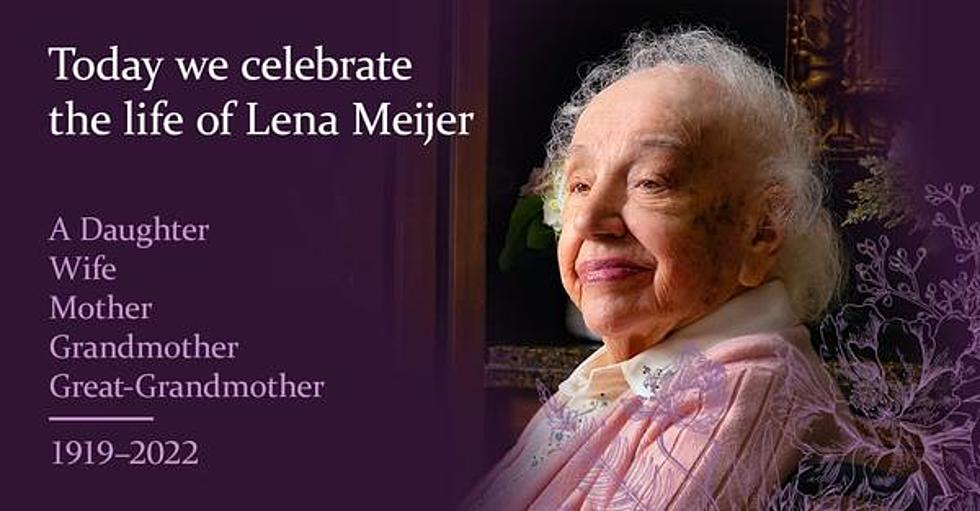 Lena Meijer Passes Away at 102. A Sad Loss for West Michigan
WZZM/Remeringlenameijer.com
We have lost a giant of Grand Rapids and West Michigan. Lena Meijer, the long time love and wife of Fred Meijer, passed away this past Saturday at the age of 102. We lost Fred in 2011. And, when I say "we," I mean all of us in West Michigan as they meant so much to this entire community.
Through the success of the Meijer chain, Fred and Lena and their entire family and chair of stores never forgot where they came from, and were committed to always giving back. Of course they had the means, and they gave back in big ways making sure that what they did benefited every community and made lives better.
Fox17 reported she graduated from Lakeview High School in 1937 and went on to work at a bank before receiving a phone call asking if she would like to work at Thrift Market in Greenville, which was owned by the Meijer family.
What a love story it was. Fred was smitten when she came to work in the Meijer store, and asked her out. Fred had later said he knew this was the girl he was going to marry after that first date. He did in 1946.
And the story grew from there as they had three children and celebrated the opening of the first Grand Rapids Meijer store in 1949. The company now has about 200 locations across the Midwest.
Let me ask you, who didn't warm to Fred Meijer when you met him. He most always gave you a gift card for ice cream at the Meijer Stores Purple Cow.
But they weren't all business. Over the years, they have supported the arts and so many nonprofits in West Michigan. One project of theirs that has continued to grow, and gain world wide attention is Frederik Meijer Gardens, opened in April of 1995. Fred and Lena donated the 132 acres and their entire sculpture collection. Since then, it's grown to include an amphitheater, children's attractions and the Japanese garden.
In 2004, the Fred and Lena Meijer Heart Center opened in downtown Grand Rapids, adjacent to Spectrum Hospital.
Since then, doctors there have saved countless lives, including Ray Bentley, who after a battle with progressive heart failure, received West Michigan's first transplant in 2010. They also made the lead gift for the Lemmen-Holten Cancer Pavilion and were the ones who named the facility, which opened in 2008.
Meijer Stores Executive Chairman Hank Meijer said:
"The blessings of a long and fruitful life outweigh the sorrow with the passing of our mom, Lena Meijer. Her gracious, giving spirit and dedication to her family, our company and our community were beyond measure and appreciated by many. She will be greatly missed."
Spectrum Health President & CEO Tina Freese Decker released a statement in response to Lena's passing:
"Lena will be missed, but her legacy will live on through the programs and services made possible by her compassion and generosity, which will benefit West Michigan for generations."
Grand Rapids Mayor Rosalynn Bliss expressed her condolences over Twitter.
"So sad to hear about Lena Meijer. She was a remarkable woman who leaves a lasting legacy in our community. My prayers are with her family during this difficult and sad time."
We will all miss Lena Meijer. Thank you for all you have done for West Michigan.