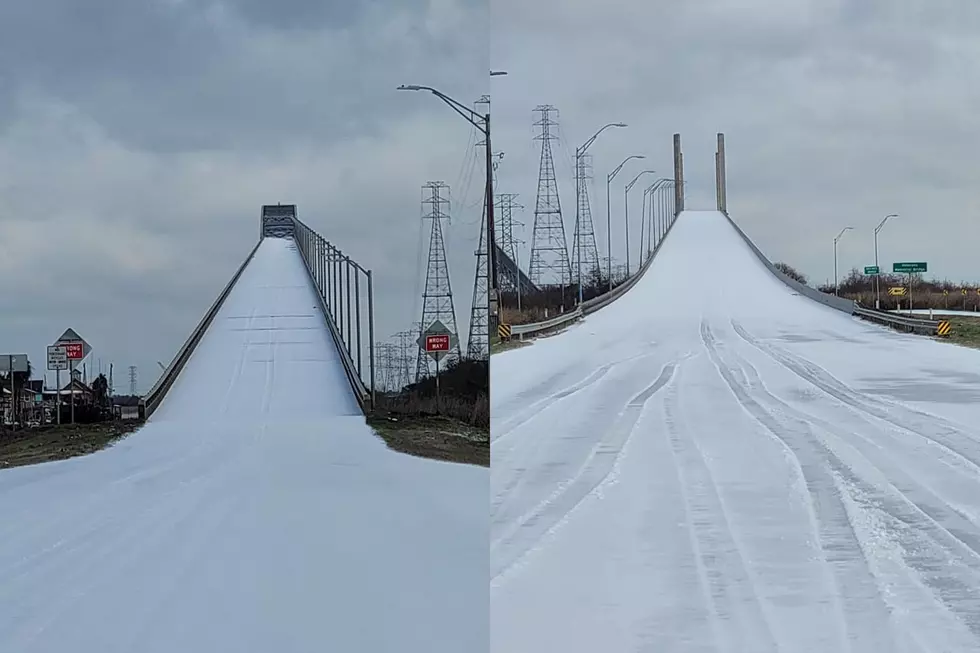 These Steep Snow-Covered Texas Bridges Look More Like Upper Peninsula Ski Jumps
Raegan Droddy via Facebook
The gulf coast of Texas is not an area where you expect to see a lot of snow. So when an intense winter storm hits, like the 2021 Valentine's Day storm, you'll excuse me if I confuse these super steep bridges with ski jumps.
The bridge on the left is the Rainbow Bridge while the one on the right is the Veteran's Memorial Bridge. Both are in Port Arthur, Texas on the border with Louisiana. The bridges cross the Neches River.
Both bridges were closed due to the storm allowing for these stark images.
You can see the comparison, can't you, to the ski jumps of Michigan's Upper Peninsula including the Pine Mountain Jump in Iron Mountain and Copper Peak in Ironwood.
That steepness, by the way, is no optical illusion. The Rainbow Bridge is the tallest in the state at 230 feet. It was built with such a high clearance to allow for access to the area's shipyards. That bridge height does make it taller than the Pine Mountain Jump by 53 feet.
One thing everyone seems to agree on is that it's tall and scary. Currently is carries only westbound vehicles. When the bridge was first constructed it was two-way traffic, so imagine the feeling of hoping the driver across from you keeps their lane as they come barreling towards you.
Here's a look at the drive from Roadwaywiz who describes their video like this:
Built in 1938, this bridge along TX 73 is one of the tallest in the state of Texas. The longest span is 680 ft and it spans just shy of two miles in total across the Neches River near the busy port city of Port Arthur on the Gulf of Mexico.
It does look like a similar intensity to Pine Mountain Jump though, eh?
The tallest bridge in Texas may be on your driving bucket list. Here are the most beautiful drives in every state:
See the Must-Drive Roads in Every State