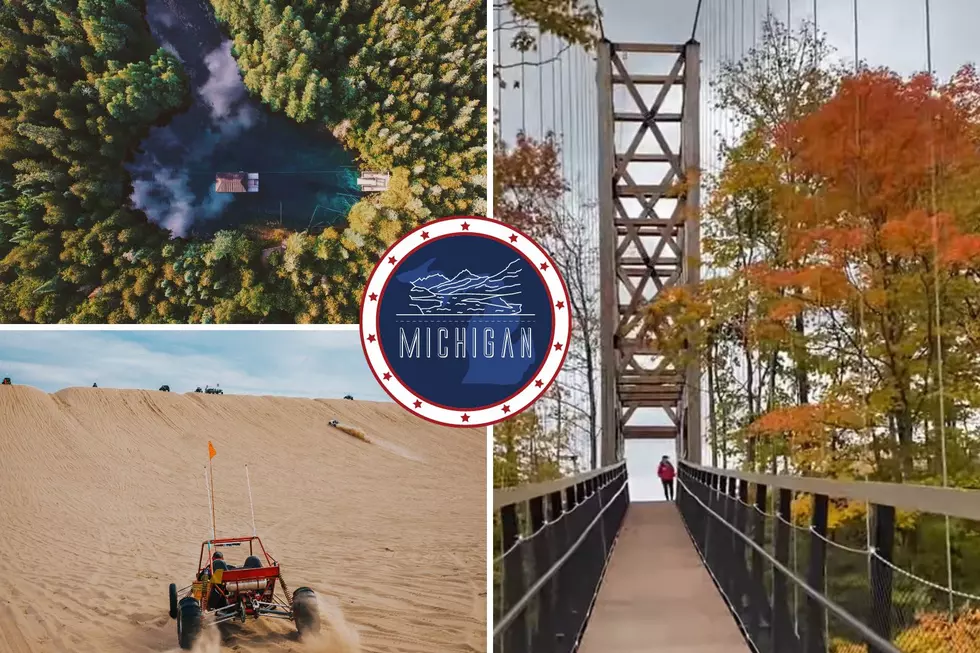 Top 5 Adventures You Need to Experience in Pure Michigan
Unsplash/Canva/Jeff Marcero via YouTube
How do I love the Great Lake State? Let me count the ways!
No matter the season the Mitten is an enchanting place to explore at any time of the year. From the Porcupine Mountains of the Upper Peninsula to the Motor City, there are so many unique and extraordinary adventures you can only experience in Michigan.
If you're still looking to set some goals and resolutions for 2023 make sure you add these experiences to your Michigan bucket list. Do you think you can manage to cross off all 5 by the end of the year?
Here are the Top 5 adventures you must experience in Michigan:
---
Kitch-iti-kipi - Manistique
There's a reason the Ojibwe call this natural spring the "Mirror of Heaven". The serene, crystal-clear waters are so majestic they draw nearly 60,000 visitors annually. The famous hand-cranked observation raft opens a window to the wonderous world below you thanks to its glass floor.
Says website Travel UP,
 You can see the large trout swimming below, ancient tree trunks, lime-encrusted branches and clouds of sand pushed up by the bubbling water. It is a window into nature you will long remember.
---
SkyBridge Michigan - Boyne Mountain
Referred to as "Michigan's Second Bridge" the SkyBridge at Boyne Mountain is the World's Longest Timber-Towered Suspension Bridge. Hope you're not afraid of heights! The structure boasts a 118-foot-high pedestrian bridge. Having only opened in the fall of 2022 the bridge is open year-round because,
every season has a reason to take in the views from this architectural masterpiece.
---
Dune Rides - Lake Michigan
Dune rides are something every Michigander should experience at least once-- just make sure to hold on tightly! Lake Michigan is home to the largest dune system in the world associated with freshwater.
Whether it's the Silver Lake dunes, Sleeping Bear dunes, or Saugatuck dunes, you'll have your pick of dune buggy tours with each location offering its own unique ties to Great Lakes history.
---
Michigan's Adventure - Muskegon
It has "Michigan" and "Adventure" in the title, so of course, West Michigan's favorite amusement park made the list! The 250-acre park was recently acquired by the folks that run Cedar Point in Sandusky, Ohio, but our childhood favorites like Shivering Timbers and the Corkscrew are still there.
---
Fishtown - Leland
It looks like something out of a Hallmark movie or The Proposal starring Ryan Reynolds, but "Fishtown" located near Sutton's Bay is actually one of the last few commercial fishing villages still in operation in Michigan.
Walking the docks of Fishtown is like stepping back in time. Learn about the history of the village and its shanties, enjoy a meal of fresh-caught fish, or pop into one of the boutiques located within the Leland Historic District.
---
Coming Soon - Rail Bike Tours
Ride along Michigan's historic rail routes with a new adventure experience coming this summer. Wheels on Rails is located in Grawn, MI and will offer 2 different tours for riders starting May 25. It's a whole new way to experience scenic Pure Michigan!
Michigan Winters Described in 5 Words or Less
On both Facebook and Reddit, Michiganders have taken on the challenge of describing the winter season in five words or less
13 Town Names That Don't Sound Like They Belong In Michigan
Check out these small Michigan towns whose namesake's are located across the globe.