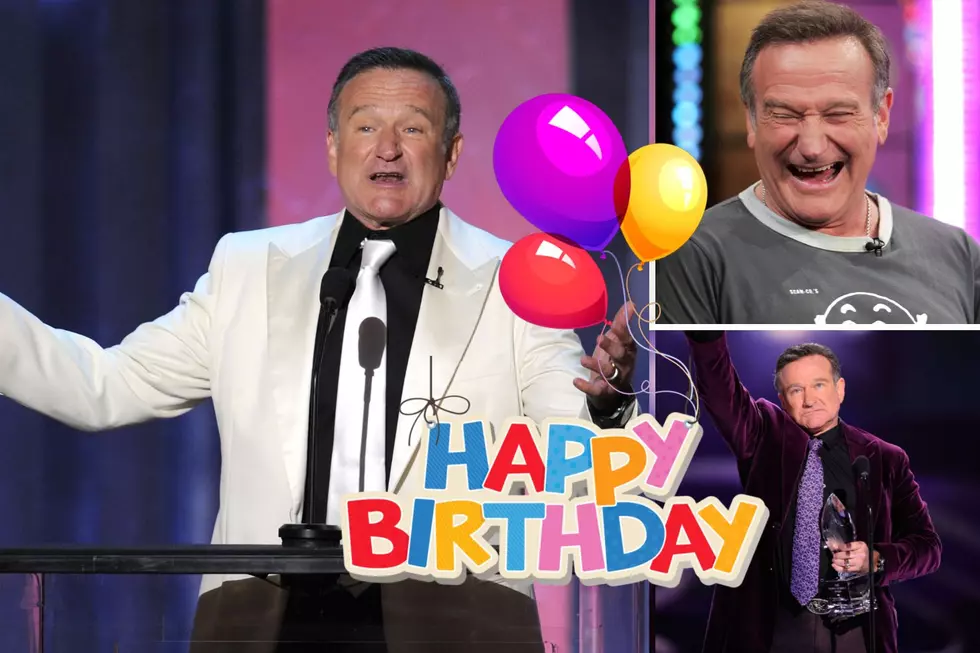 Top 7 Classic Movies You Must Watch To Celebrate Robin Williams' 71st birthday
Credit: Canva & Getty Images
Happy birthday to the legend, Robin Williams!
The iconic actor and comedian grew up in the metro Detroit area.
While speaking of his upbringing in Michigan, he told Detroit Free Press that was not the class clown in school.
"No, no, I was president of the class. I loved school, maybe too much really, I was summa cum laude in high school. I was driven that way."
While his life ended in a tragic manner, he brought smiles, laughter, and joy to many fans' lives.
Here are the top seven movies you must watch to celebrate his legacy today.
1. Mrs. Doubtfire
Throughout research on social media, this was the most commented movie when people were asked what their favorite Robin Williams movie is.
The film follows Williams as a divorced actor who pretends to be a female nanny to be able to visit and interact with his children.
Since the movie is so legendary, it was adapted into a musical comedy on Broadway.
2. Dead Poet Society
Dead Poet Society gave one of the most notable performances from Robin Williams.
Following Robin Williams as an English teacher who inspires his students through poetry, this movie gained several accolades, including Academy Award nominations for Best Director, Best Actor, and Best Picture.
3. Night At The Museum: Battle Of The Smithsonian
While this is his last role, this is one of my personal favorites from Robin Williams. His comedic timing as Teddy Roosevelt added so much life to the film.
4. Hook
Directed by Steven Spielberg, Hook follows Robin Williams as adult Peter Pan who has forgotten his entire childhood. In his workaholic lawyer stage of life, his children get kidnapped by his past enemy, Captain Hook. This causes Peter to return to Neverland, reclaim his memories and save his children.
Hook has a strong cult following because of Robin's performance, which led to five Academy Award nominations.
5. Aladdin
I may be biased on this one since it is my favorite Disney film of all time but Robin Williams' genie is simply undefeated.
Robin took the role of Genie and became the best character in the entire movie. It is astonishing to me that most of his lines were improv.
6. Jumanji
Jumanji brings board games to life.
According to Wikipedia,
Jumanji centers on a supernatural board game that releases jungle-based hazards upon its players with every turn they take. As a boy in 1969, Alan Parrish became trapped inside the game itself while playing with his friend, Sarah Whittle. Twenty-six years later, siblings Judy and Peter Shepherd find the game, begin playing and then unwittingly release the now-adult Alan. After tracking down Sarah, the quartet resolves to finish the game in order to reverse all of the destruction it has caused.
Jumanji ended up being the 10th highest-grossing film in 1995.
7. Happy Feet
In the original Happy Feet, Robin Williams played Ramon, Lovelace, and Cletus. He also acted as the movie's narrator.
Robin Williams slayed his musical number, My Way.
Happy Feet follows the journey of Mumble, an emperor penguin, who lacks the ability to sing but just loves to dance.
I could not recommend this movie more than I already do.
Celebrate the life and legacy of Robin Williams with a movie marathon.
30 Famous Actors and Actresses Born in Good Ole Michigan
Michigan has produced thousands of famous actors and actresses. Here are 30 that were actually born here as well.