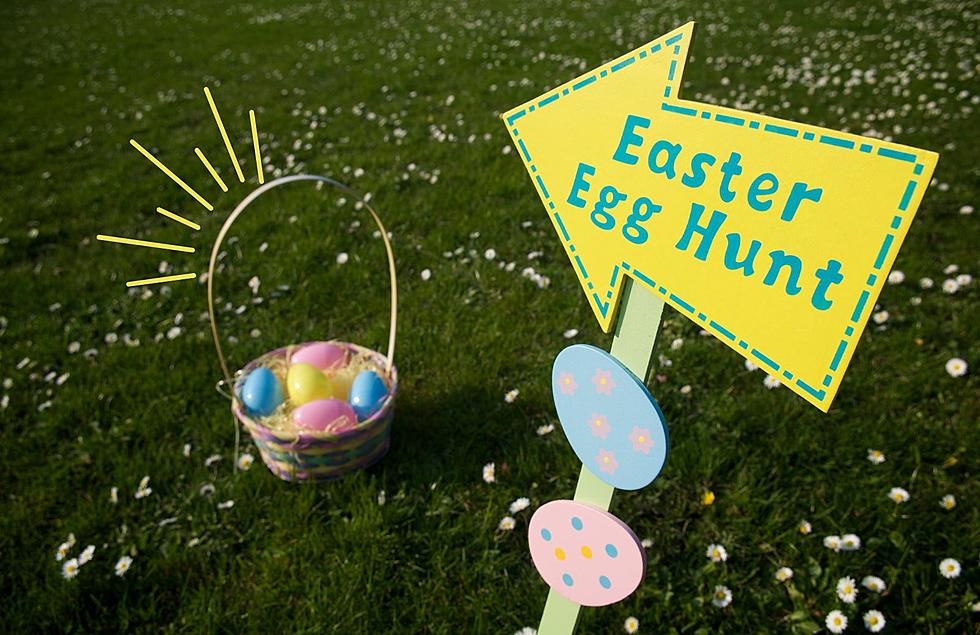 CHECK OUT: The Best Easter Egg Hunts in West Michigan This Weekend
Canva
The easter bunny is coming to West Michigan this weekend!
Whether you're in Kalamazoo, Muskegon, South Haven or Grand Rapids, there are plenty of places offering Easter Egg hunts for kids and adults like. So, if you're ready to rip and run and score some loot, here are some of the best places to check out in West Michigan for your Easter Weekend Festivities.
Allegan:
Try the Easter Egg Drop at Hamilton High School which is being put on by Cultivate Community Church. According to their event, there will be coffee, donuts, activities, prizes, and of course, plus 10,000 Easter eggs for the kids to enjoy! It will be Saturday, April 8th at 10am.
Battle Creek:
Celebrate the start of baseball season as well as Eastern with this fun event at the Battle Creek Battle Jack's stadium. Head to MCCU field to hunt eggs and have fun on Saturday, April 8th from Noon - 2pm. Details here.
Belding:
Looking something for your sensory sensitive kiddo? This may be your perfect fit. Meet at Belding High School on Saturday April 8th from 2 - 3pm, for this special event being hosted by the Belding First Congregational Church. Adult supervision is required for each participant.
Greater Grand Rapids:
Head Out to Blandford Nature Center for their EGGcellent Egg Hunt. They're hosting two hunts on Saturday April 8th from 11a - Noon and another at 1pm lasting until 2.
Meanwhile in Wyoming, the Wyoming Harbor church invites you to celebrate easter with them on the day itself! On Sunday, April 9th Directly following their 10:30am service, the party will begin. This free family-friendly event will include games, prizes, a bounce house, food, and an Easter egg hunt.
And in Lowell, you can spend Easter on the Farm at the Red Barn Market. You'll want to secure your tickets beforehand, because they're going quickly. Not only will they be dropping 10,000 eggs for you to hunt. They're also offering crafts, cotton candy and more!
Georgetown Township:
Head to Maplewood Park on Saturday, April 8th, at 10am for Cottonwood Church's Community Easter Egg Hunt. Adults can grab donuts and coffee while they watch Easter egg hunts for several age groups to enjoy. There will be three egg hunts for different ages: 0-4 years old, 5-8 years old, and 9-12 years old.
Kalamazoo:
Looking for an Easter egg hunt that actually falls on Easter? Head to Kalamazoo! The Kalamazoo Covenant Church invites all Children 12 and under. They plan to have simple crafts and prize giveaways in addition to their hunt. The giveaways will happen in our family friendly 10:30AM church service, while the egg hunt will begins beforehand at 9:45.
Muskegon:
The Central Assembly of God - Muskegon is hosting their Easter Egg Scramble on Saturday April 8th at Noon. This fun Easter event is for all kids up to age 12! They're offering prize drawings too. And don't worry, if the weather is grumpy that day they have an indoor backup plan.
South Haven:
Kal-Haven Outpost is having their own Easter egg hunt with over 4,000 eggs up for grabs! They say they'll be hosting  two separate hunts that both start at 11am. One hunt for the little kids 2-6years old, and one hunt for the bigger kids 7-12 years old. This one does require a $5 entry fee, but there are some fun prizes they'll be drawing for as well.
White Cloud:
The White Cloud Lions Club is inviting you out to hunt with them. Their hunt will be at White Cloud County Park across from the High School, and it kicks off around 10am so don't be late.
 Happy Easter, however you celebrate! Here's hoping your hunts are full of treats, smiles, and a great time for everyone. If you have a hunt you'd like to have added to this list, you can email it to laura.hardy@townsquaremedia.com
Five Family Friendly Places In West Michigan To Have Fun Indoors
Mother nature can be unpredictable. These family-friendly places in West Michigan should make the whole family happy when the weather outside is frightful.