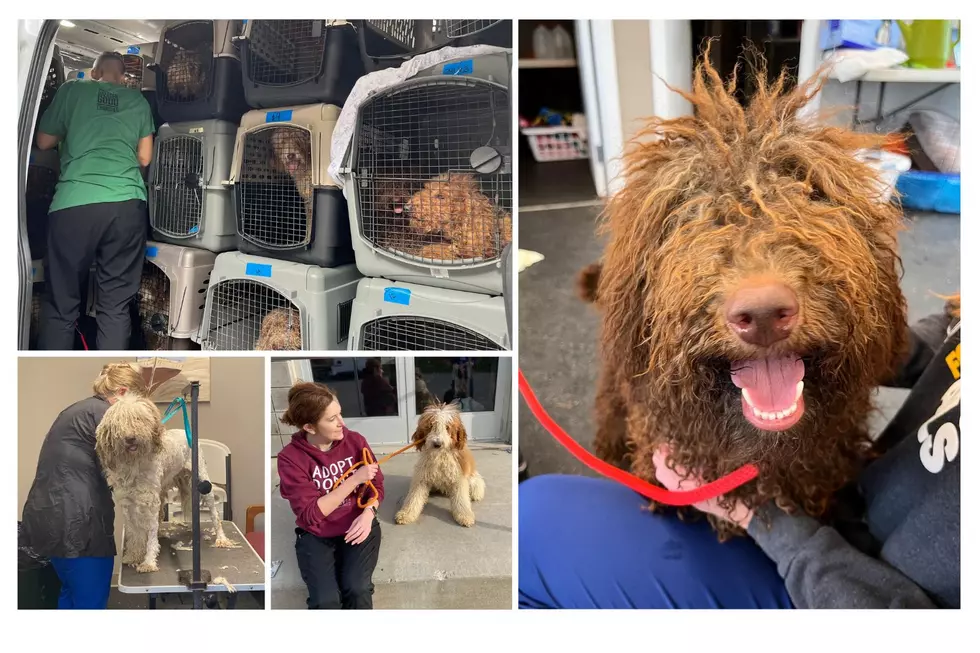 West Michigan Shelters Rescue 35 Golden Doodles from 'Severe Neglect' at Alabama Puppy Mill
Harbor Humane Society, Facebook
Not gonna lie, this story is heartbreaking - but it's also heartwarming, in that animal shelters right here in West Michigan have stepped up to save the lives of 35 dogs who were in a horrible situation.
Harbor Humane Society in West Olive says last week they received a call from Cathy Bissell and BISSELL Pet Foundation, hoping for some assistance with a suspected large-scale puppy mill in Alabama that was breeding Golden Doodles:
Dogs were suffering and severely neglected, and unfortunately the local shelter was not in a position to assist due to some already difficult situations they were facing. We had to help.
Within hours, Harbor Humane was headed to Birmingham in a van packed with kennels. They returned to Michigan with the neglected dogs and got to work:
These dogs are NOT in good condition. They are severely matted, under socialized (they come out of their shells around their fur-friends), and not spayed/neutered. They are already being groomed, and getting all the love and care they deserve of course.
This is what a large scale breeding operation looks like, and it has got to stop.
Nine of the dogs remain at Harbor Humane Society and 26 have been transferred to other amazing area shelters who are stepping up to help these animals.
Harbor Humane says the dogs are not available for adoption yet, but to keep an eye on their website, as they will be listed when available!
Five of the dogs were takin in by the Humane Society of West Michigan, who shared on social media,
These doodles will get the grooming and medical attention they need, the love and care they deserve, and then will be going up for adoption... Big thank you to the staff at Harbor Humane for driving all night to get them to Michigan safely!
Another group of doodles went to Detroit Dog Rescue. In a post to Facebook the rescue spoke more about extensive medical care the dogs will need.
Warning, the below photos are hard to see.
If you would like to help out these awesome Michigan rescues, here are links to be able help!
Check out these 50 fascinating facts about dogs: