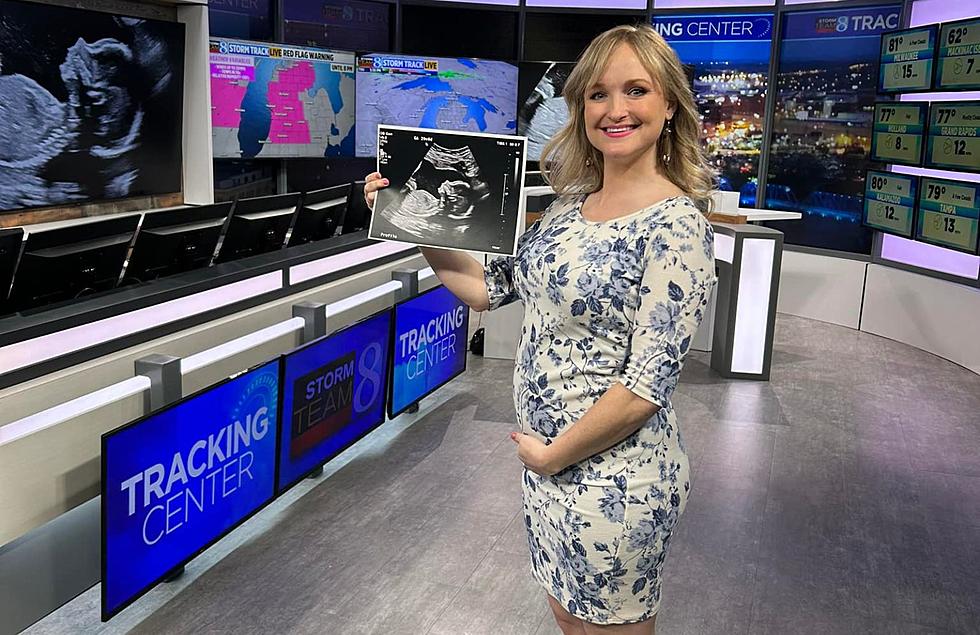 WOOD-TV8 Meteorologist Ellen Bacca Has Some Very Exciting News To Share
Credit: Ellen Bacca via Facebook
A popular West Michigan meteorologist made a big announcement on social media on Thursday.
Ellen Bacca who is the Chief meteorologist at Wood TV 8 shared some very exciting news. She and her husband Mark are expecting!
Wood TV 8 Meteorologist Ellen Bacca Has Some Very Exciting News To Share
Ellen shared on her Facebook page the exciting news with a post saying "20 weeks and feeling great"
When Is The Baby Due?
Ellen and Mark are expecting their baby to arrive on September 1st, 2023. Ellen said that early tests and ultrasound show the baby is currently healthy and growing fast.
On her blog "Ask Ellen" she shared that this would be their second child
This is our second child. We lost our first, a boy named Diggory, in the second trimester in June 2021. We were able to capture his memory thanks to a nonprofit called Memories From Monroe, which preserved prints of his hands and feet after delivery by the awesome staff at University of Michigan Metro Health-West.

 
Is Ellen Bacca Expecting A Boy Or A Girl?
Ellen said that she and her husband know the sex of their baby but are giving viewers the chance to guess for 24 hours and then on Friday at 7 p.m. she will share the sex of the baby.
My wife and I have not tried to start a family yet, but we've had several family members and friends struggle with fertility and miscarriages.
When I see a public figure like Ellen being so open It makes me appreciate her even more. I guarantee she is helping at least one person that might have gone through something similar.
Congratulations Ellen and Mark! My prediction is that a baby boy is on the way.
Michigan Celebrities First Jobs
Before they became famous they had regular jobs just like us.
Grand Rapids Dive Bars
Enjoy A Cold One At These Awesome Grand Rapids Dive Bars.
Grand Rapids Needs These Popular Restaurants And Businesses in 2023
These are the top restaurants and businesses people in Grand Rapids would like to see open up in 2023.