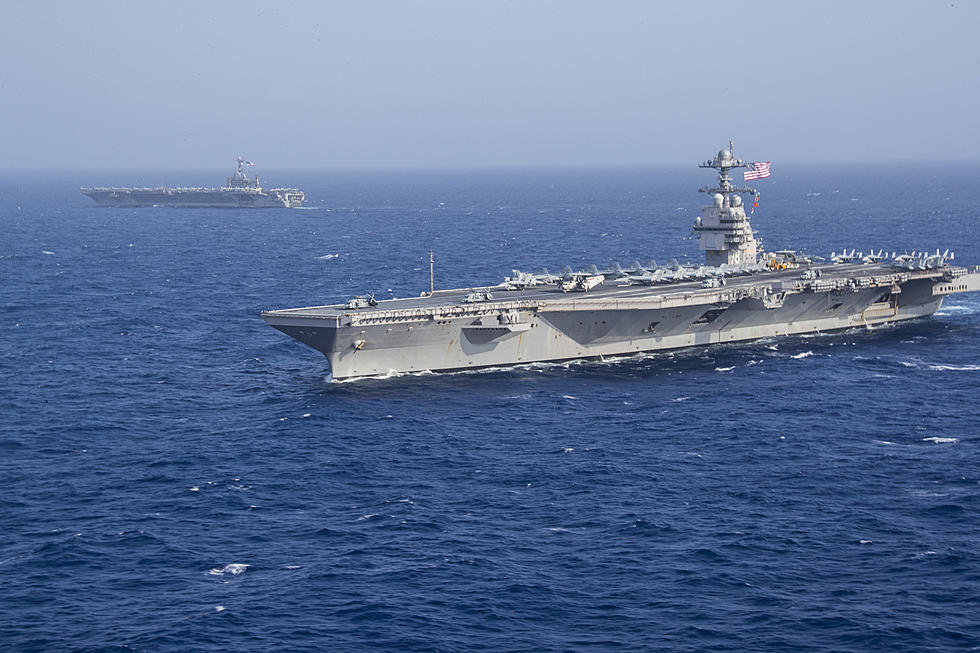 14 Years In The Making: The USS Gerald R. Ford Is Finally Deploying
U.S. Navy
Former President Gerald R Ford is arguably one of the most famous people from Grand Rapids and West Michigan, but it's not just his home that celebrates his legacy still to this day.
A lot of former Presidents have things named after them, from buildings and statues, to things like aircraft carriers. There have only been 10 presidents to date that have had an aircraft carrier named after them, and Grand Rapid's very own President Gerald Ford is finally getting his.
After 14 years of delays and building pains, the most expensive (and often troubled) next-generation aircraft carrier, the USS Gerald R. Ford is finally ready for deployment.
This newly built aircraft carrier cost $13.3 billion in total, and was approved by the U.S. Navy in late 2021.
The History of the USS Gerald R. Ford
According to USCarriers.net, it's been a long road to get to deployment for the ship. "The Gerald R. Ford (CVN 78) is the lead ship of its class of U.S. Navy nuclear-powered aircraft carriers and is named after the 38th President of the United States Gerald R. Ford, Jr., (1913-2006), whose World War II naval service included combat duty".
The ship was then finished in 2007, where it was used pre-commission for over a decade, and even underwent several captain changes during that time. It's the first of its kind to be built in the last 40 years, which may explain why it took so long for it to join the fleet.
How big is it?
According to the Congressional Research Service, USS Ford will carry 70+ aircraft, including 40 to 50 F/A-18E/F Super Hornets and F-35 Joint Strike Fighters, five EA-18G Growler electronic attack aircraft, 19 MH-60 Seahawk helicopters, four E-2D Hawkeye airborne early-warning aircraft; and two MV-22B Osprey cargo transports.
When will it officially be deployed?
Over the past few weeks the USS Gerald R. Ford has received over a million gallons of fuel, 541,000 pounds of ordnance, and it's flight deck check, but there is still a lot left to do. As of right now, it's estimated deployment will be this fall, but not specific date has been set yet.
It's exciting to see this ship finally get deployed after it's long and troublesome journey, but we're almost to the finish line.
Abandoned Atomic Bomb & Boat Factory, Saginaw