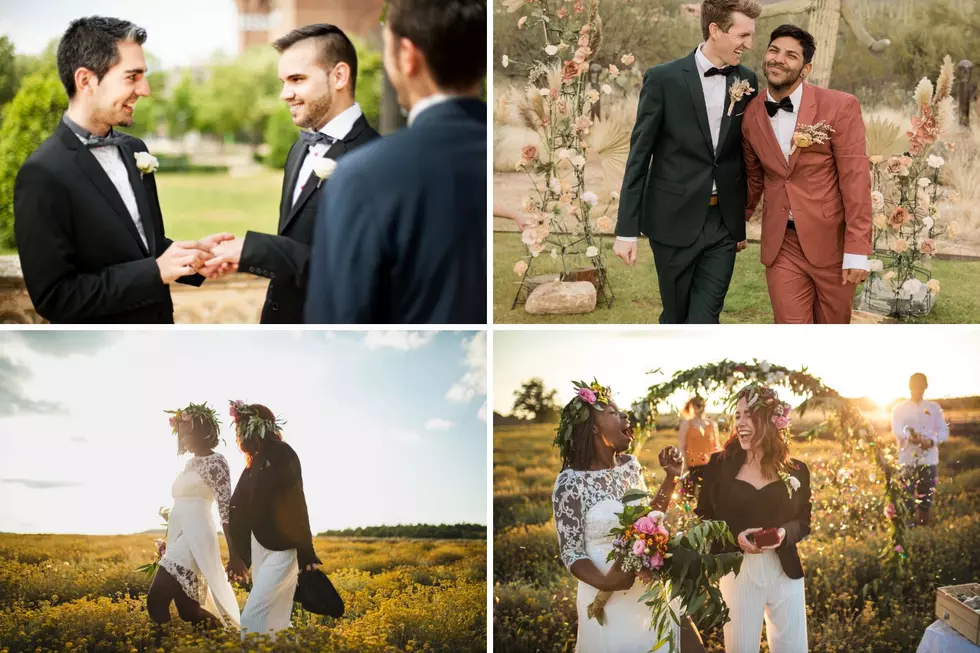 4 West Michigan Wedding Venues that DON'T Discriminate Against the LGBTQIA+ Community
Canva
Guess I will not be using this venue as a future wedding venue...
Grand Rapids has a wedding venue that says they will not serve or accommodate any LGBTQIA+ couples.
Thankfully, the city is giving The Broadway Avenue a fine because they are violating its human rights ordinance.
Since The Broadway Venue is violating section 9.968 of the ordinance, the violations are punishable by up to $500.
While that investigation is going on, you and your significant other might be still looking for a wedding venue.
Here are 4 wedding venues that are not stuck in the 1950s. Try these LGBTQIA+-friendly venues so you have the wedding venue of your dreams.
Stonegate Manor & Gardens - Benton Harbor, Michigan
View this post on Instagram
Stonegate Manor & Gardens is giving all of the fairytale vibes. Plus, they are LGBTQIA+ friendly!
"Say "I Do" in our intimate Fairy Garden surrounded by lush forests or in our timeless Pergola on the spacious sunny front lawn. Host your reception in the air-conditioned Riverside Dining Room or under the outdoor Estate Tent surrounded by beautiful gardens and the bridge to forever. You and your loved ones will create wonderful memories while enjoying a perfect afternoon filled with conversation, cocktails, and casual outdoor games."
If having a big wedding is not your speed, Stonegate Manor & Gardens offers other packages as well
They have an 'Elopement & Micro Wedding Package' for up to 16 guests and an 'All-Inclusive Petite Wedding Package' for up to 50 guests.
Camp Pinewood - Twin Lake, Michigan
If you want a beautiful lake view wedding, you may want to check out Camp Pinewood.
"There's an incredible "outdoor chapel" overlooking the water, complete with amphitheater seating so your guests won't miss a thing. Follow with games on the lawn, and dinner in the woodsy, light-filled dining hall."
According to Here Comes The Guide, "the warm fuzzies are guaranteed."
Camp Pinewood uses its rental fees to support the YMCA.
Downtown Market - Grand Rapids, Michigan
Did you know you could get married at Downtown Market?
You can have your beautiful ceremony at their rooftop Greenhouse and eat, drink and be merry in their Banquet Room.
"From our breathtaking scenery and view of downtown Grand Rapids to our exclusive catering options, our venue has the space and amenities you need for a memorable day."
Besides the Greenhouse and the Banquet Room, there is also a medium-sized venue called the Garden Room.
Timberlee Hills - Traverse City, Michigan
Timberlee Hills may be one of your favorite snow tubing venues. It is also a beautiful wedding venue.
"For parties of up to 70 people, our fireplace room offers a more intimate gathering spot. Our larger reception space and covered patio overlook the valley and, at a combined area of 4500 square feet, hosts up to 250 guests. If you'd rather keep everything in the fresh air, we can also accommodate outdoor receptions."
Once you book a wedding, Timberlee Hills gives wedding planning assistance, including setting up and taking down chairs and tables.
Bridal suite
White linens
Wedding arbor
Dance floor
Access to the building before the wedding
& Use of the property for your photos.
Need some wedding song ideas?
Discover the top 15 first dance songs used at wedding around the world, below (as of March 2022).