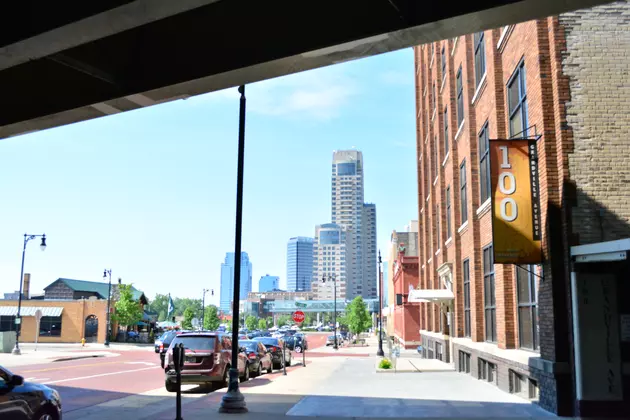 Our Top 10 Cheap Restaurants in Grand Rapids
Townsquare Media Grand Rapids
These days, everyone is eating on a budget. But, eating on a budget doesn't mean that you can never go out, or always have to eat at fast food joints or that place you have a coupon for. I've compiled a list of my top ten cheap restaurants in Grand Rapids.
1. Yesterdog: First on the list of the top ten cheap restaurants in Grand Rapids is a considered to be a landmark by many. Yesterdog, located at 1505 Wealthy Street in East Town has the best hot dogs in town, and the most expensive one is only going to set you back $2.30! They're open Monday through Saturday from 10:30am to 2:30am.  Be aware, though, that there is a "ordering system" that you must abide by. Just remember: dogs first, then drinks, then chips, and you'll be fine. Or just follow the lead of the person in front of you.
2. Marie Catrib's: Marie Catrib's is another East Town staple that definitely could not be left off of the list. Many would argue that it should be on any "Top 10 places to eat in Grand Rapids" list. They offer regular fair, as well as gluten free, kid friendly and vegan friendly dishes. One of the biggest draws for me is the fact that Marie makes the best pasties I have found this side of the Mackinac Bridge (and they're offered in a gluten free version as well)! Along with their normal, sit-down atmosphere, Marie Catrib's also boasts a deli and a carry-out menu. The best part (and why it is included on the Best Cheap restaurants in Grand Rapids list) is that nothing on the menu costs more than $10.
3. Real Food Cafe: Number three on the list of the best cheap restaurants in Grand Rapids is relatively new to the area, but people can't stop talking about it, and I can see why. While only open for breakfast and lunch, The Real Food Cafe has two locations, one on Eastern Ave. and one on Northland Drive. They have an extensive menu, from omelets to sandwiches to quesadillas. They also have a great kids' menu and amazing desserts. Be sure to bring cash, as they don't accept credit, but it's worth the trip to the ATM. They don't have a website, but you can check out their full menu and review on their Facebook page.
4. Skywalk Deli: The Skywalk Deli is probably one of my favorite places to eat in all of Grand Rapids, and it's inexpensive, for those reasons and more, I had to put it on the list of the best cheap restaurants in Grand Rapids. Their menu (breakfast and lunch) is extensive, featuring nearly thirty sandwiches to fit anyone's taste and a variety of soups, as well. You won't find anything on the menu that's more than $8, and they even have a "create your own sandwich" option. Located at 940 Monroe Ave. (The Boardwalk Building), it's quick and convenient, especially for those living or working in downtown Grand Rapids. If you go around lunch time, there sometimes is a wait, but that just testifies to the fact that it's a great place to eat.
5. Wolfgang's Restaurant: Another great breakfast/lunch hot spot that absolutely can not be left off of the list of the best cheap restaurants in Grand Rapids is Wolfgang's Restaurant in East Town. As with the other restaurants listed, everything on Wolfgang's menu is under $10. The portions are huge and the menu is extensive. I've made it a personal mission to try at least a bite of everything on it and I've barely made a dent in it so far. While there are a lot of good "traditional breakfast joints" in Grand Rapids, it's tough to find a breakfast joint that has as many creative takes on those traditional favorites as Wolfgang's does; and they do them quite well.
6. The Winchester: Number six on the list of the best cheap restaurants in Grand Rapids is a break from all of the breakfast and lunch joints I've been featuring. The Winchester, another restaurant located in East Town (on Wealthy Street), not only has great food, but a great atmosphere, as well. The menu isn't as extensive as some, but it definitely features a great variety. From deviled eggs to macaroni and cheese to pad thai, there's definitely something for every palate at the Winchester. Again, nothing on the menu will cost you more than $10, and if you're into the Gastro Pub thing, the Winchester is a must. As they say on their Facebook page, "it's dope".
7. Schnitz Deli: I discovered Schnitz Deli purely by accident, and I'm glad that I did. With three locations around Grand Rapids (I've only been to the one on Fulton Street), Schnitz Deli is a hidden gem as far as restaurants in Grand Rapids go. Schnitz offers nearly 25 different sandwiches, each as delicious as the next, as well as a "create your own sandwich" option. They also offer soups and a variety of salads to accompany your favorite sandwich.  Again, you won't find anything on the menu that will set you back more than $10, and it's definitely worth every penny that you spend and then some. They offer a variety of breads, meats and cheeses, to cater to any palate. Definitely a must try in Grand Rapids.
8. Flanagan's Irish Pub: Flanagan's Irish Pub is more than just a downtown weekend hot spot. In fact, I try to make my way there for lunch at least once a week. With friendly staff, great drink specials, and (most importantly) delicious food, Flanagan's is a must try. And that is why it's one of the best cheap restaurants in Grand Rapids. Of course, they have the traditional Shepard's Pie, Fish and Chips, and Corned Beef. But, they also offer "American" food, and some great appetizers (the Reuben bites are a must try). Many people have told me that Flanagan's (Flanny's, to the people who frequent it) has the best Reuben in town. I opt for the California Reuben myself, and it's possibly the best sandwich I've ever had.
9. Logan's Alley: With a huge variety of beer (consider joining their "Around The World Club") and excellent food, I would be remiss if I excluded Logan's Alley from the list of best cheap restaurants in Grand Rapids. Located on Michigan Street, Logan's offers a great atmosphere and a menu that even suggests which of their many beers to pair with your food. You can get everything from hummus to chili cheese dogs to a fried egg sandwich. You, again, won't find anything on the menu that's over $10, and some of the items on the menu change with the season, so it's always new and fresh. Logan's Alley is open for breakfast, lunch and dinner, and their patio is a great place to sit and relax when the weather gets a little warmer.
10. The Choo Choo Grill: Another Grand Rapids staple, a place that has been in business for ever, was a must for the best cheap restaurants in Grand Rapids list. The Choo Choo Grill is railroad history in Grand Rapids. By my count this tiny breakfast & burger joint only seats 18 people. You'll end up sitting close to your neighbor, but hey, that encourages people to strike up conversation, doesn't it? The menu is pretty limited to burgers, fries, malts, and a few other sandwiches, but it's well worth the trip. You'll find the Choo Choo grill on the corner of Plainfield and Leonard, and again, you won't find anything on the menu that will set you back more than $10.
I hope you enjoyed your tour of my favorite cheap eateries in Grand Rapids. Now tell me, what are some of yours?