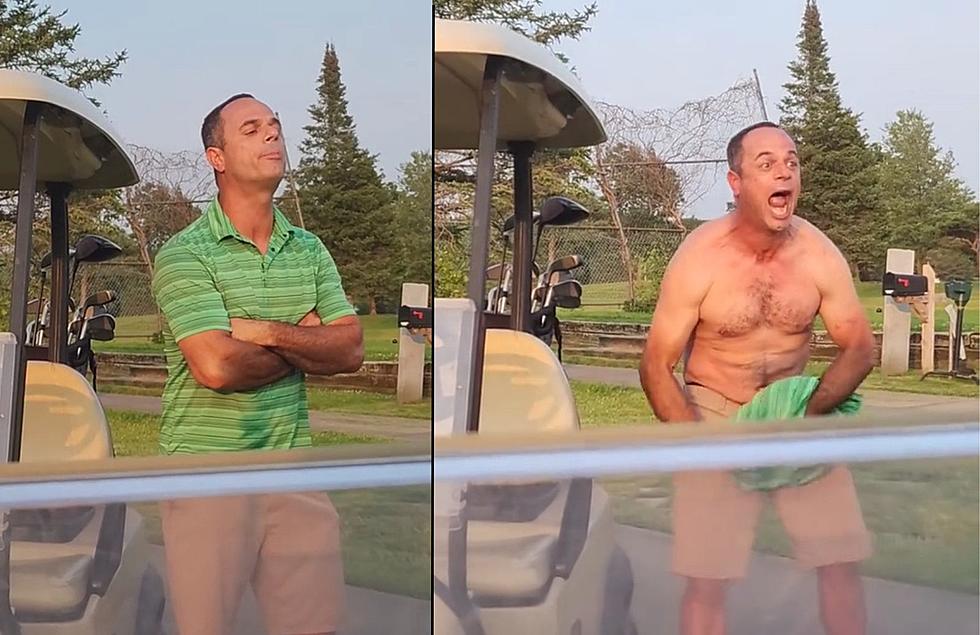 "Angry Golf Karen" Banned from Michigan Golf Course After Taking Off Shirt
kennethdavis8680 on TikTok / Canva
Golf is one of the most frustrating games you can play, so it's okay if you get a little frustrated.
I've been playing since I could walk, and I can't tell you how many times I've wanted to go full Bob Barker in Happy Gilmore (RIP) over a bad shot.
But whatever you do, you don't want to take page from this man's playbook if you feel like you've been wronged on the fairway, unless you want to become the next big internet meme.
41-year-old John Reeb of Archbald, Ohio went viral late last week after he got visibly upset over the placement of a golf ball while playing a round. He was at Crooked Creek Lake Golf Course in Ottawa Lake when it all went down.
We don't know exactly how this altercation started, but we join the video with John holding the ball, and yelling at the people behind the camera. They immediately call him an "angry karen" before it even heats up.
Supposedly, he was holding the ball of someone playing in another group and is for some reason, mad that they are trying to take it from him.
Maybe he had a few extra beers while playing (we've all been there) but the next part of his reaction is a little over the top... He escalates after they question him, loses it and strips off his shirt and offers for them to "test god" and to "come get it".
One of the off camera players on the other team points out that he's probably mentally ill, and that they should just leave, and the video quickly cuts off afterwards.
Well, John's little "hulk out" moment ended up getting him 15 minutes of fame on TikTok, and he's even become a tiktok capcut template that people are using:
And, on top of his viral fame, John Reeb also recieved a ban from the Michigan golf course, which isn't his first. He was previously banned from another course in Ohio, probably for a similar reason.
If you want to see the full video, it's waiting for you here:
And make sure you're not like John. After all, it's just a game.
27 Michigan Golf Courses With a 4.7 or Higher Google Rating
The people have spoken (well, rated them on google), and here are 27 golf courses in Michigan that have a 4.7 or higher rating on Google.
Gallery Credit: Google