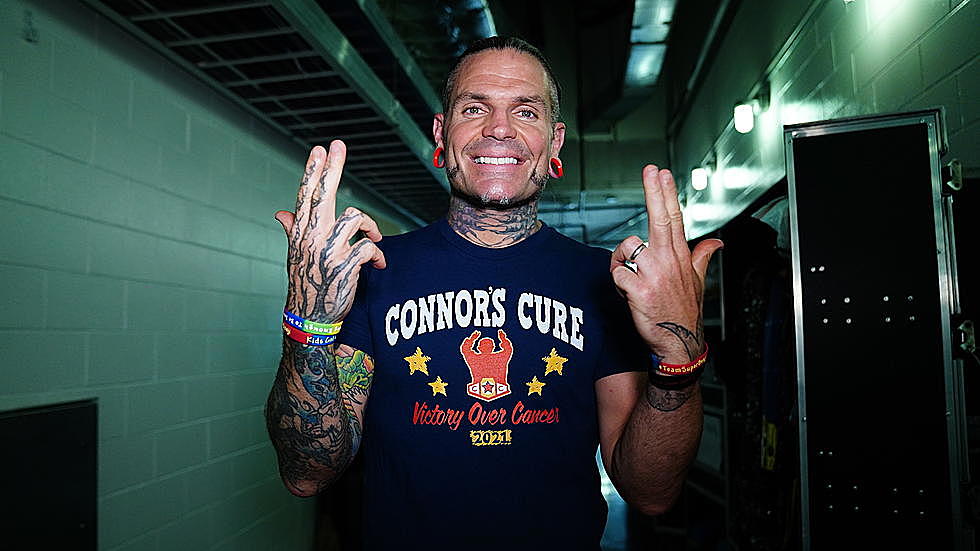 Jeff Hardy's Final Interview Before Being Released From WWE
📷 Jeff Hardy/Facebook
Update: Jeff Hardy has been released by WWE and will NOT be at Van Andel Arena for the WWE Supershow. 
Your favorite WWE Superstars are coming to Van Andel Arena for the WWE Holiday Supershow on Sunday, December 12th.
Our own Trevor got to talk with WWE Superstar Jeff Hardy ahead of the show on Sunday. They talk Snow, Dream Opponents, and Macho Man Impressions.
Here is their conversation, listen below.
T: He is an icon and future Hall of Famer, the innovator of the TLC, and has been thrilling audiences with his death-defying arsenal of moves since the '90s and has won almost every title possible in WWE. He is the Charismatic Enigma, Jeff Hardy! How are you doing, Jeff?
J: Good Man, How are you?
T: I'm so excited to talk to you. I'm the radio station's resident wrestling fan, so when I got this opportunity, I was like "I HAVE to talk to Jeff Hardy"
J: Gotcha
T: We are so excited to have you in Grand Rapids at the Van Andel Arena coming up on December 12th for the WWE Supershow Holiday Tour. How does feel to be back on the road?
J: So fresh and new man. Like I came out and wrestled Karrion Kross my first night back and I got No More Words back, and yeah so fresh and new, it's like everything's kind of been reborn, so to speak. I can't wait to be in Grand Rapids man, where it's really cold. (laughs)
T: You're right (laughs) You know it gets really snowy up here in Michigan.
J: Oh Yeah.
T: I've definitely Swanton-ed into some snow before, so.
J: I love it.
T: Now a lot of families go out together and build snowmen, go sledding, does your family have any winter or holiday traditions?
J: No, not really, but Ruby my oldest daughter, she'll be 12 next October, but she's like so excited for snow this year.
T: Nice!
J: We're going to go out there and do some mild snowboarding or something in North Carolina. I think we'll get some (snow).
T: I wanted to give you a little backstory here, I started watching wrestling again, right when the Hardy boys came back to WWE in 2017. So it's been awesome watching your comeback journey. Do you have a favorite moment since returning?
J: It's got to be like WrestleMania 33. The moment we went through that curtain and saw that ocean of human beings out there, man. Like eighty thousand people in Orlando was just incredible. It was like nothing had ever changed since '08 or '09 when I left. But now with my music, No More Words is back it's so fresh and new. Although I'm 44 years old, but I feel like I'm 24 you know in a sense. Not really though my bodies kind of beat up.
T: Yeah, I mean even just watching the video of that, of your return. I get goosebumps watching it. Cause like everyone is so excited to see you.
J: Yeah for sure man, music is healing man. It's like mediation for me for sure.
T: Well you love music, I know you play in a band. Do you have a favorite concert you've ever been to or concerts you've been to? Anything like that?
J: Yeah, my first was back around 95' I went to see Pearl Jam for the first time. Man, it was incredible.
T: Nice!
J: Then Matt and his buddy made their way to the stage and me and Shannon Moore was actually in the background. Just the power of what he was saying. They kicked off with a song called Long Road. It was a beautiful song and I was like I really want to do that one day.
T: Nice!
J: If I don't wrestle till I'm 80! (Laughs)
T: Right! You've always got your voice there! At a rock concert do you get in the pit at all, are you a Mosher, or a crowd surfer? Cause I've definitely seen people Swanton off of stages into crowds before.
J: Yeah I did, I think one time I think we saw Tool and Korn at Lollapalooza in whatever year it was. My nose was bleeding, I think Shannon had a black eye or something. We were crazy, but we loved every minute of it. But yeah music is the Universal Language you know.
T: One thing that is pretty…Universal is that you need to challenge for that title. I know you've been talking about it, I watched your Broken Skull Session and you know, do you have any plans for Day One yet? Are you ready to take on the tribal chief?
J: Not Day One, but I think around Wrestlemania.
T: Oh Yes!
J: I can see like Brock Lesnar and Roman being the Main Event(of Day One), but after that, it's a clean sheet of paper, brother.
T: Speaking of that Broken Skull Session, it was the best homework for me or anyone who has to interview you, and you know there was a couple things I noticed from there I wanted to ask you about. You said one of your dream matches would be against Andre the giant. Which made me wonder how do think Andre fair in a TLC against you?
J: Oh he wouldn't do well at all in a TLC. But just like man, when I saw Sting, I was in Fedville, I think it was the Civic Center in Fedville, North Carolina. I remember Sting, Blonde-haired Sting with neon tights and I touched his shoulder, I was like Man I want to somebody feel like the way he made me feel. I saw Andre in that same arena, but it was just like a… I don't it wasn't real, you know. It was like an other-worldly thing. Like this huge dude, I reached out and touched his elbow or something. But Man, I never had a conversation with him, but I think back to him and Hogan and it was just a beautiful moment in pro-wrestling.
T: Oh yeah, definitely. One other thing I noticed from the Broken Skull Sesh. You said you played some baseball before you did wrestling. I wanted to ask you what position did you play?
J: Shortstop
T: Shortstop, nice. You also mentioned your weedeating, and for those who don't know, Jeff does these incredibly intricate groundwork art at his house. Now how wild would it be if you combine them? Like you design something at a baseball field? Or something like that?
J: That would be amazing man. Before I wanted to be a pro wrestler I wanted to be like Dell Murphy of the Atlanta Braves and then I wanted to be Jeremy McGraft, pro motocrosser. But then wrestling was just my thing man. But then along the way my buddy Donald Stubber, bless his soul, he's gone now. He taught me how to edge with a weeder instead of an edger. I said "Man we can take this farther and actually draw in the grass." So yeah I would totally love to do like a big demon face or something.
T: Yes!
J: Then do it at the Atlanta Braves
T: That would be so cool, I mean it's for the World Champs I guess now.
J: Yeah, Exactly! That would be so cool.
T: Yes. I recently saw in an interview you did, you pitched an incredible idea for a match where the ring would rotate and you'd have to escape a cage, an Upwards Spiral Match? Who would you want to face in a match like that?
J: Ultimately, now that I think about it, I would say Seth Rollins. He's so talented, man. It is so possible. I see it in my head, that's what going on in my imagination. It could be real man because back in WCW at Universal Studios the ring would rotate just for show. Even as a kid, I was like there could be a match like that.
T: Yeah, that would be incredible. I would love to see you and Caesaro. Then Caesaro try to swing. (Laughs)
J: Oh that'd be the perfect opponent man. Upwards Spiral.
T: For the last couple of Halloweens I've been Macho Man and I've been working on his voice oh yeah(in Macho Man Voice)
J: Ohhhhh yeah(in Macho Man Voice)
T: Do you got a key to a great Macho Man Impression?
J: Oh my god me and my guitar player from North Carolina, we do it all the time, like crazy. We go Ohhhhh yeah (in Macho Man Voice) for anything we get excited about. (In Macho Man Voice) "Oh yeah brother I'm going to take you down" (laughs)
T: Yeah, I feel like there a key to just getting the right uh huh(in Macho Man Voice)(laughs)
J: Oh yeah for sure. After every song now, when I do a demo song for like PeroxWhy?Gen or Jeff Hardy stuff, after it's over I go (in Macho Man Voice) "Oh yeah that was sweet brother, good job" (laughs)
T: Well Awesome Jeff, I'm so looking forward to seeing you at Van Andel Arena coming up on December 12th for the WWE Supershow Holiday Tour. Tickets are on sale now. If anybody wants to visit WGRD.com we have more details on that. Thanks so much for talking with us!
J: Right on Brother, Rock, and Roll.
T: Rock and Roll! Have a great day!
J: You too
CHECK THESE OUT: Inflatable Kiddie Pools For Adults