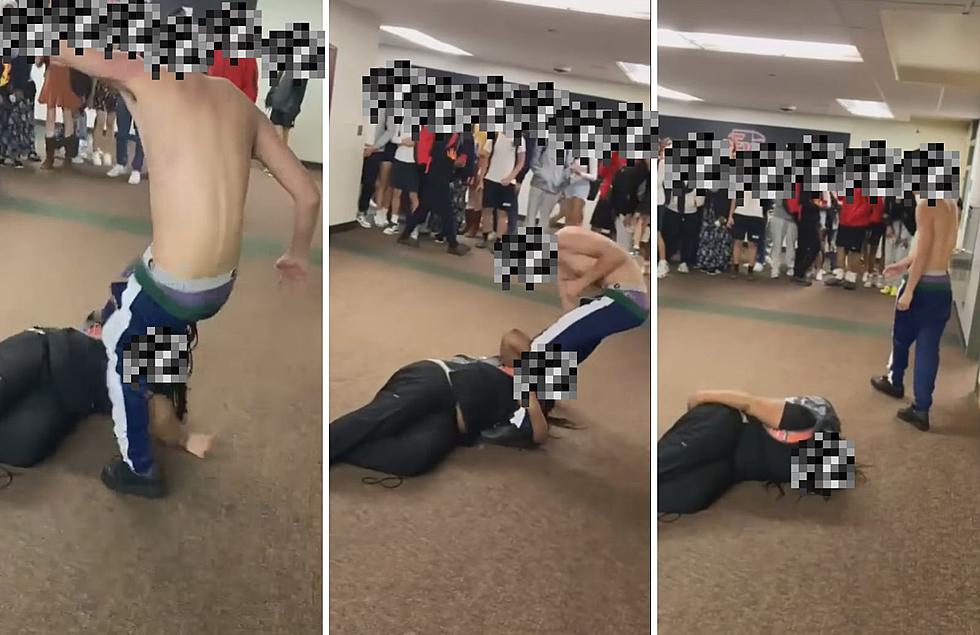 Hard To Watch Video Shows Fight Between Two East Kentwood Students
Canva / Facebook
A fight at East Kentwood High School has gone viral online.
The fight was between a male and female student at East Kentwood High School.
This is a developing story but here's what we know so far.
Sometime today a fight happened at East Kentwood High School.
The fight involved a male and a female student.
The video starts out with the female student on the ground and the male student rearing back to kick her in the head.
After being kicked in the head, the female student falls back and appears to raise her arms to protect her face and head from the male student.
With over 10 students just feet away watching and doing nothing to stop the violence.
The male student kicks the female student in the head again and again.
In the short video, the male student kicks the female student 7 times in the head.
With a large group building the fight continues with the male student throwing a punch at the head of the female student who was still on her back trying to protect herself.
A few seconds later the male student starts to walk away and looks back at the female student lying on the ground then the video ends.
It doesn't matter who started the fight or what it was about.
Someone should have stepped in and broken it up instead of standing around and doing nothing.
This video is sad on so many levels.
East Kentwood High School Released A Statement
Dear East Kentwood Families,
It is important for us to share information with you, especially when student safety is involved, and that is why I am writing this letter to you this afternoon. Today an incident involving two students in a hallway took place in our school and was captured on video by students and, subsequently, shared on social media. First and foremost, we want to say that the actions that took place in the hallway were disturbing and unacceptable. They do not represent the beliefs and values of East Kentwood High School or Kentwood Public Schools. We want to assure you that we are investigating this matter fully to discover what led up to the incident, and we will respond in the appropriate manner to address this situation. We are working with our school resource officer, in partnership with the Kent County Sheriff's Office, in this investigation, along with the Kentwood Safety Department. This type of behavior, regardless of any circumstance, is not tolerated at East Kentwood High School. We have high expectations when it comes to student behavior, even if students encounter difficult situations. We will continue to support our students in understanding these expectations and living up to them. We ask parents, as our partners in education, to please take this opportunity to speak with your children about what to do when conflicts arise in order to handle them appropriately. This includes seeking out a trusted adult in our building to speak with before issues get out of hand. We appreciate your support in this matter.

 

Sincerely,
Omar Bakri
Principal
East Kentwood High School
Kentwood Public Schools

 
WARNING THIS VIDEO MIGHT BE DISTURBING FOR SOME VIEWERS
Famous Celebrities You Might Not Know Are From Michigan
You will definitely recognize these names and faces, but might be surprised to find out they're from Michigan.
25 Things Michigan Is Known And Famous For
Michigan is known as the Motor City and is home to Motown. But that just scratches the surface of what the Mitten state is known and famous for.
A Battle Creek Native Wins Big On The Price Is Right