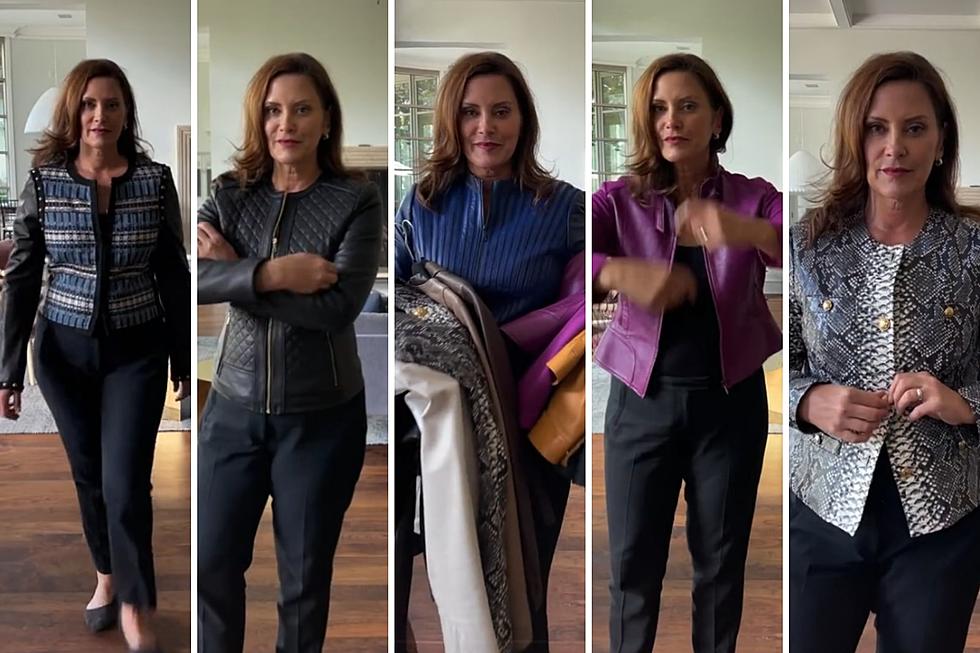 Whitmer: 50, Fashionable And Fabulous!
BigGretchWhitmer- Tik Tok
She's the 49th Governor of Michigan and the second female ever elected to the position. And now Gretchen Whitmer is 50. She celebrated her birthday on Monday. She did it with a fashion show of leather jackets, her "super power".
In the video, Whitmer dons 8 different leather jackets. She starts the video by holding a variety of leather jackets that she will model. Edit to her first jacket and we see the politician wearing a blue moto style zip-up jacket. She's paired her selection with black dress ankle pants and black flats. The soft leather is embellished with long seams which elongate her silhouette.
Next, she goes for the gold. Placed over her black tank top, Big Gretch shows off a shiny peplum styled gold jacket. The coat is highlighted with polished metal buttons. The architectural peplum back gives an hourglass feminine presentation.
The birthday girl then steps into camera wearing a striped and subtle updated moto jacket. The straight line-zipper design and soft washed cotton-blend fabric with comfy stretch on the sleeves offers a monochromatic look. The overlay striping adds visual interest which aids in hiding any imperfections.
Going with a vibrant pop of color, it's a purple crop jacket we see next. It's peplum back adds a feminine flare to the look. Whitmer does a quick hair toss and leaves the garb unzipped. The foiled jacket features a high mandarin collar.
A Chanel inspired jacket is displayed next. It's a vintage, multi-colored tweed look with solid, long black sleeves highlighted with military-esque epaulettes near the shoulder and wrist.
A staple for many women's closet, the Governor shows a classic fitted black leather jacket. While it adds an instant edge aided by zippered hardware, the look is more feminine due to fit and its seasonal weight means she can wear this piece 12 months out of the year. The quilting on the front gives the impression of texture which is flattering to many body types.
From black to white, a smooth leather is next. It offers an upscale look that will pair perfectly with black pants or a pencil skirt. Zipper details on the front pockets give it just the right amount of edge and dressiness. The crew neck line calls for a piece of statement jewelry.
Buttoning her final cropped jacket, Whitmer wears a foiled finish piece which gives a sophisticated style that shines in a chic python print. The gold buttons add a feminine flare to the look.
Here is the video from her TikTok account.
LOOK: What major laws were passed the year you were born?
Data for this list was acquired from trusted online sources and news outlets. Read on to discover what major law was passed the year you were born and learn its name, the vote count (where relevant), and its impact and significance.