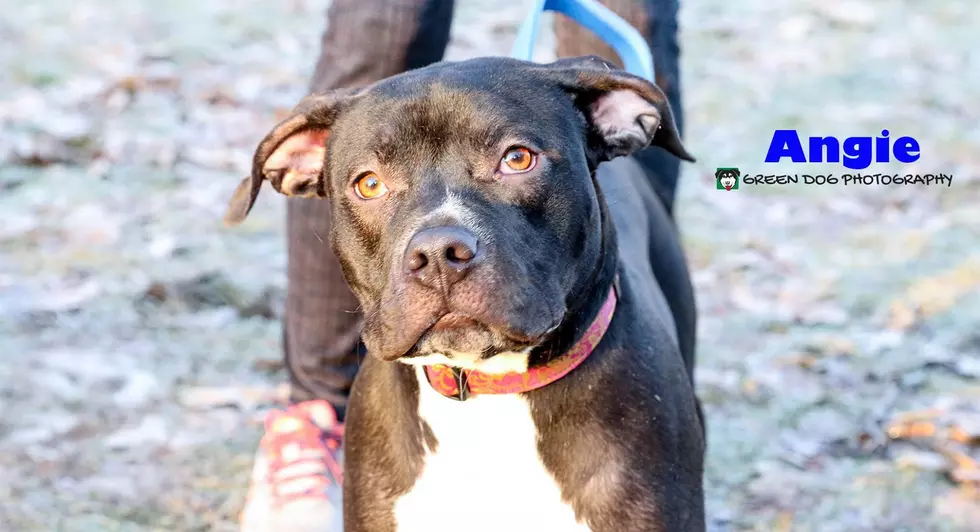 Meet Angie – Christine's Pet of the Week!
Humane Society of West Michigan
Another animal that will melt your heart is currently waiting to be adopted from the Humane Society of West Michigan!
Angie, a 1-year-old Pitbull is very social and loves to meet new people. I would know! :)
Angie is also very cuddly so she'll do great in any home including children. She gets along well with male dogs but its always recommended to do a dog-to-dog meeting before adopting.
If you're looking for something fun to do this weekend while helping out, join the Humane Society of West Michigan on Saturday, 2/24 & Sunday 2.25 at Van Andel Arena to watch the Grand Rapids Griffins play! When you purchase your tickets here use promo code HSWM because a portion of ticket sales will benefit the humane society.
Or make it a Sunday Funday and bring your dog along with you! The Griffins game will be a special one that day because dogs can get it in on the hockey action; so don't forget to buy a ticket for your four-legged friend as well!
& finally, registration for Spring Break camp is officially open. If you have a kid(s) and aren't planning on taking a vacation while kids are out of school... sign them up for camp at the HSWM. Spring Break Camp will be held April 2nd-5th from 9a to 4p. Each day of camp will focus on a different companion animal at the shelter, games, crafts, guest speakers and lots of fun! Kids must be between ages 7 and 12. Register here.